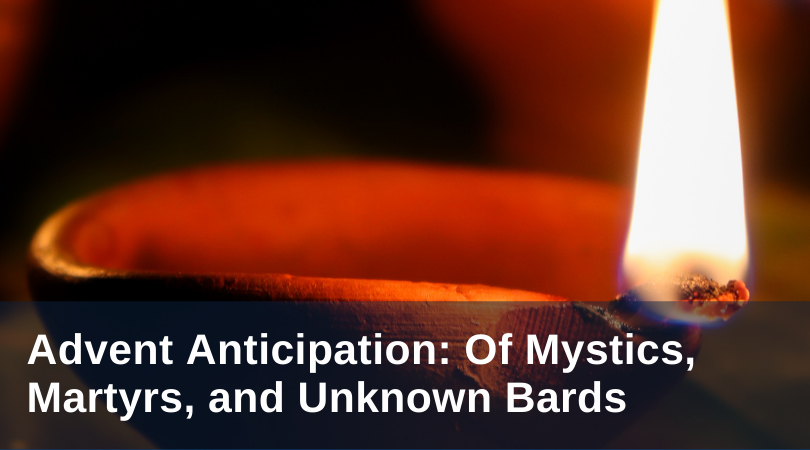 Children don't get weary,
Children don't get weary,
Children don't get weary,
Till your work is done.
Keep your lamps trimmed and burning,
Keep your lamps trimmed and burning,
Keep your lamps trimmed and burning,
The time is drawing nigh.
~~~~
On December 2, 1980, forty years ago,
four North American women missionaries
were martyred in El Salvador.
~~~~
Advent has always seemed to me to be a hidden gem within the Christian imagination in our fast paced world. By secular standards Christmas might begin before Thanksgiving. Shopping, the great American pastime, occupies much time; looking for the best deals can be hard work.
So the quiet and somewhat austere way in which Advent tends to begin usually stands in contrast, challenging us to imagine what could be understood as just a four week run-up to Christmas differently. This cannot be more true than this year for so many who have been asked by government leaders around the world to battle the pandemic by minimizing travel and severely limiting socialization.
In my own work as a residence hall rector at Notre Dame, I found myself free from an extraordinarily stressful semester weeks earlier than usual knowing that it will be more than two months before the students return. After a very small Thanksgiving dinner for five, life becomes quieter, slower, more reflective than even past Advent seasons. My heart aches in the silence.
Why do we tend to avoid silence and stillness? Is it not because we'd rather not hear the many voices that secretly direct much of our behavior, voices often shaped by fear and shame? Do we not worry that too much time with ourselves will lead us down destructive, if not paralyzing, paths of self doubt? Certainly this is a real risk. But, Advent is not calling us to contemplate only ourselves.
Keep your lamps trimmed and burning,
the time is drawing nigh.
The spiritual and the season don't ask us to simply focus on ourselves—the longings, shortcomings and unfulfilled hopes of our own lives—but instead to prepare ourselves for someone else. The gospel of the First Sunday of Advent charges us to "Be watchful! Be alert!" Stay awake. To approach the season with honesty, to seek a clear-eyed and sober focus on what we hope for in the person of Jesus Christ.
This kind of honesty is required for the nurturing of an anticipatory stance. Yes, we are living through a most difficult year. Political division and cynicism abound. Digital connections can be a minor respite, but they could never replace the power of human touch or face to face communication. Loneliness lurks behind every phone call and isolation haunts every video conference. We sometimes find ourselves hemmed up by a solitude not of our choosing.
Perhaps a commitment to what the theologian Johan Baptist Metz called a "mysticism of open eyes" might best dispose us to finding ourselves and our redemption during this shared period of social and spiritual desolation.
In other words, to allow myself to say to God in my prayer, twinged with anxiety and a discomforted spirit, "I am afraid; help me" might be a path toward the cardinal virtue of 2020: the capacity to live (well) with consistently uncertain knowledge of the immediate future. To be grounded in the hope that marked the lives of even the martyrs who longed for the fullness of the kingdom of which Advent points. To wait in joyful hope of such a coming Savior—if God deems us such a great mercy—is to participate in some measure of that fullness now . . . here . . . together, even as we feel so distant and apart.
Like what you read? Submit your email below to have our newest blogs delivered directly to your inbox each week.