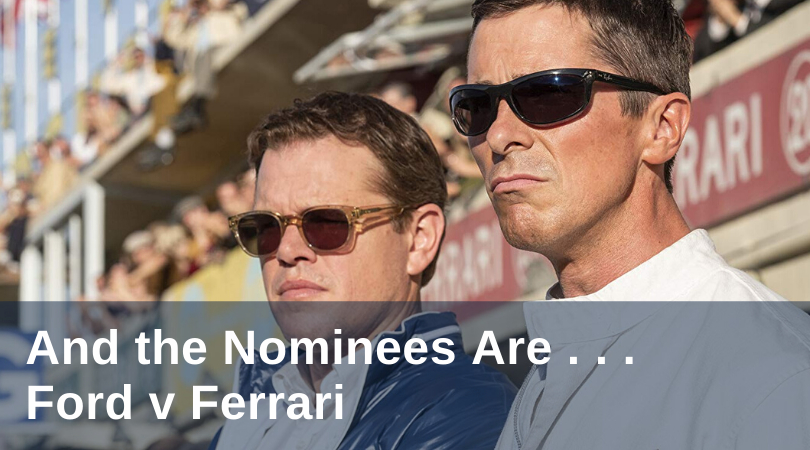 Editorial Note: This review contains spoilers.
Never having been one to buy into the hype of successful car-racing movies like The Fast and Furious franchise, I had serious doubts about Ford v Ferrari. If this movie was anything like others in the genre, with gratuitous fiery explosions and endless action scenes to compensate for a lackluster plot-line, my $13 would be better spent seeing Little Women for the third time.
Ford v Ferrari does include several fiery explosions. And much of the action-packed movie takes place at the Le Mans race track. But director James Mangold's captivating retelling of this particular historical event held me in rapt attention for the full 2 hours and 32 minutes.
Carroll Shelby (Matt Damon) is a retired race car driver and the only American to ever win at Le Mans, a 24-hour race held in France. After being approached by Ford's Lee Iacocca to design a vehicle that can help the company recover from the biggest sales slump in its history, Shelby recruits Ken Miles (Christian Bale) to drive the company's first-ever race car against the Ferrari team. Miles is, in many ways, not a likable person—he has an explosive temper and comments to his wife that he's not what others might call a "people person."
Despite these flaws, Miles is the most fascinating character because he gives the viewer the impression that he was meant by God to drive race cars—that it's what he was created to do. He lives his life with the passion of someone who has fully realized his vocation. The scenes of Miles behind the wheel are reminiscent of the relationship between the Creator and his creatures: Miles talks to and about cars with a depth of knowledge and affection that no one else, not even Shelby, can quite match.
Perhaps this is why Miles can justify doing something so radically dangerous. About halfway through the movie, he's testing the Ford race car model when he experiences brake fade and the car goes up in flames. His young son and wife stand in shock, waiting to see if Miles will emerge from the vehicle as the pit crew races forward with fire extinguishers.
Miles escapes from the wreckage mostly unscathed, but this scene is the first in which the very real danger associated with race car driving rears its head. Miles' gifts and vocation necessarily put him in harm's way—is this enough to make it worth risking his own life, not to mention the joy of his wife and son? Mangold seems to suggest that it is, and as viewers, we, too, accept the risk Miles undertakes because we know that his character is incomplete without it.
As he races at Le Mans and pulls ahead of all other contestants, Miles sits behind the wheel of his car in pure bliss. He's achieved the perfect lap. After Le Mans, Miles and Shelby get to work developing another race car. As Miles speeds through the desert, his son, Shelby, and members of the pit crew watch from a distance. In an eerie flashback to the opening scene, in which we see Shelby winning Le Mans several years prior, Shelby repeats the same lines as he did then, only this time it's Miles we see grinning in euphoria as he gracefully handles the car around sloping hills and curving roads.
"There's a point at 7,000 RPM where everything fades. The machine becomes weightless. It disappears. All that's left, a body moving through space, and time. At 7,000 RPM, that's where you meet it. That's where it waits for you."
As Damon finishes his monologue, we see a look of consternation cross Miles' face as he experiences the same brake fade he did before. Only this time, he does not escape the wreckage.
It's a heartbreaking ending to this film drawn from real life. But, at the same time, Miles' death is surrounded by a sense of peace. He achieved his perfect lap—realizing his passion and vocation even as he took his final breath. There's something in this idea that's parallel to the Kingdom's perfection—God may not be concerned with timing a gear shift exactly, or knowing when to lay on the brakes to execute the perfect turn, but he bestowed on Miles the gift of knowing and living his vocation and allowed his gifts to be shared with the world.
Featured image: imdb.com; fair use.