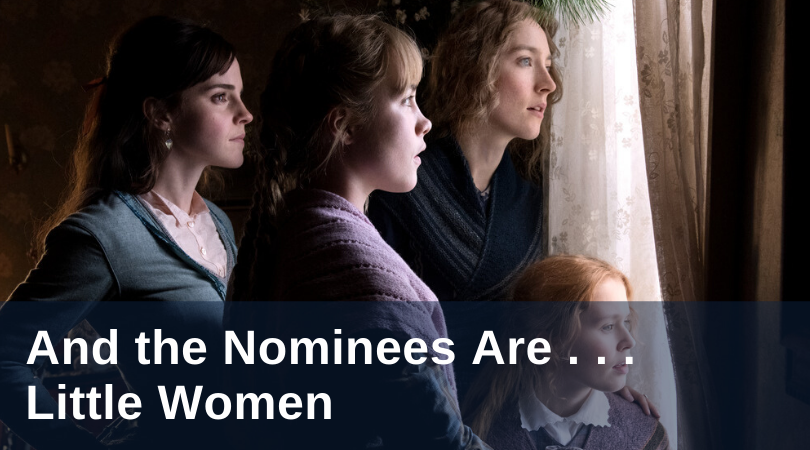 When I heard that there was to be yet another film adaptation of Louisa May Alcott's classic novel Little Women, I cringed. Don't get me wrong, I love the March sisters. But the film industry has subjected viewers to scores of reboots these past few years—the endless array of Spider-Man movies and the live action Disney updates are just the tip of the proverbial iceberg. While some remakes have been critical and popular successes (see 2018's Best Picture nominee A Star is Born, for example), many of these cinematic reboots are a far cry from the original material that inspired them (see 2016's Ben-Hur; or better yet, don't see 2016's Ben-Hur; stick to the 1959 classic). Hence my reaction to yet another film version of Little Women, which, over the last 100 years—in other words, since the dawn of the motion picture—has been made and remade for film and television more than a dozen times. I was worried that this latest version of Little Women, when compared to Gillian Armstrong's beloved 1994 adaptation, was going to be a profound disappointment.
Then I learned that Greta Gerwig was adapting the screenplay and directing the film, and my anxiety and annoyance became intrigue and excitement. The visionary award-winning writer and director of Best Picture nominee Lady Bird (2017) is a remarkable story-teller, and in adapting this beloved novel, she ventures bravely into uncharted territory much as Jo might, playing with time and sequencing by beginning the story in media res and utilizing flashbacks to great effect.
Many critics have also commented on how Gerwig drew inspiration from Alcott's own life in adapting and updating Little Women for a twenty-first century audience: viewers are given a far deeper glimpse into the personal, economic, and professional limitations a nineteenth-century woman would have faced than in previous versions of the film, which primarily focused on the romantic entanglements of the sisters and their relationships with one another. Yet under Gerwig's direction, the idyllic veil of sisterly affections and happy marriages is lifted, and we see more truthful portraits of these Little Women.
For example, while Jo is certainly and rightfully given pride of place, Amy's arc nearly steals the film. Through Gerwig's sure-footed writing and nuanced direction, and through the masterful performance of Florence Pugh, Amy suddenly becomes a three-dimensional character with deep and substantive artistic aspirations rather than the shallow and materialistic coquette she's so often been depicted to be, and this character—who has equally often served as a foil for tomboyish Jo with her headstrong and outspoken creativity—is revealed to have far more in common with Jo than either Meg or Beth.
Yet, even as she pushes the envelope with this adaptation, Gerwig roots the entire film in the ultimate simplicity of its plot: she tells the story of one family, offering us a glimpse of their domestic life together, with all its drudgeries, difficulties, sorrows, riches, and joys. The March family is a family of flesh and blood. The sisters fight. They hurt one another. They hold grudges. And they apologize. They forgive. They support one another. They love one another. And perhaps this is why we keep returning to their story again and again, plumbing its depths for more. The March family is a mystery. We can almost hear the sisters asking themselves at different points in the film, how did I end up belonging to this strange group of people and not another? How can she and I possibly be related? Are we more alike than I realize?
Perhaps we've asked these questions of ourselves as we consider our own families. And therein lies the gift of Greta Gerwig's Little Women: her depiction of the richness of the March sisters' shared life as a family gives us new eyes to appreciate the ordinariness of domestic mundanity as the best fodder for art and adventure, and to see the often secret and hidden treasures our own families might offer us.
Featured image: imdb.com; fair use