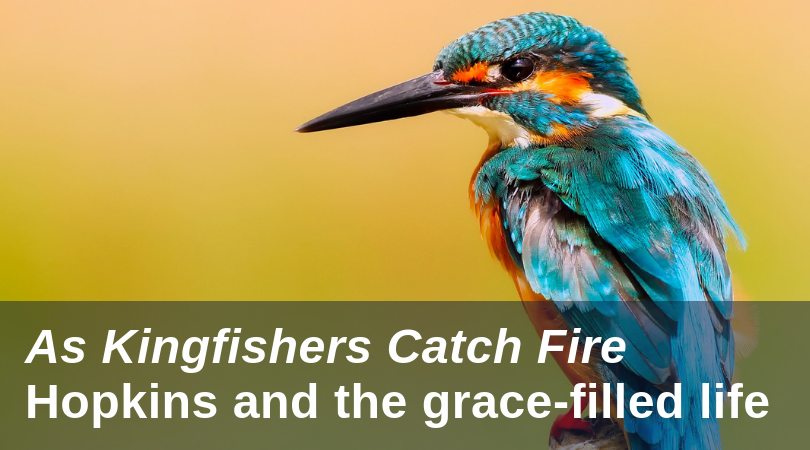 I first encountered "As Kingfishers Catch Fire" in a homily. While I don't fully remember the homily itself, this poem has stayed with me ever since—enough that I even bought a book of Hopkins' poems. I keep coming back to it because it helps me to recall and envision the grace-filled life that God desires for me.
As Kingfishers Catch Fire
by Gerard Manley Hopkins

As kingfishers catch fire, dragonflies draw flame;
As tumbled over rim in roundy wells
Stones ring; like each tucked string tells, each hung bell's
Bow swung finds tongue to fling out broad its name;
Each mortal thing does one thing and the same:
Deals out that being indoors each one dwells;
Selves — goes itself; myself it speaks and spells,
Crying Whát I dó is me: for that I came.

I say móre: the just man justices;
Keeps grace: thát keeps all his goings graces;
Acts in God's eye what in God's eye he is —
Chríst — for Christ plays in ten thousand places,
Lovely in limbs, and lovely in eyes not his
To the Father through the features of men's faces.
In this poem, Gerard Manley Hopkins begs us to go beyond the self-proclaiming inclination of other mortal creatures and instead to pursue our higher vocation. Nature follows its own inner order, which is self-driven. (Whát I dó is me: for that I came.) Humans, however, are intended to "catch fire," to exceed that inner order by receiving God's grace. Hopkins reminds us that this gift of God's grace must spiral us into action. Made in the image and likeness of God, we are each created to be a unique manifestation of Christ, called into action to be Christ in the world. The only way to rise above the self-serving inclination of our nature is to be transformed by God's grace and to live for love of God and neighbor, no longer living for ourselves. As St. Paul wrote, "I have been crucified with Christ; it is no longer I who live, but Christ who lives in me; and the life I now live in the flesh I live by faith in the Son of God, who loved me and gave himself for me" (Galatians 2:20).
Recently I had an opportunity to reflect on how I might be called to "keep grace" and "keep all my goings graces." During confession, a very compassionate priest gently reminded me that the Christian life is a daily battle with the fallen elements of our human nature. He recommended that I pray to be able to hear God's voice above any other and to recognize that God wants me to see myself as God sees me. Without this spiritual vision, I cannot be who God wants me to be. In other words, I must adopt an intentional connection with God in order to fully accept God's grace (keep grace) so that I can let Christ be reflected in my actions towards others (keep all my goings graces).
Hopkins' poem is built around action verbs for a reason. It is in action that creatures manifest their identities, and it is in our actions as humanity that we choose to 'keep grace'. By maintaining a relationship with Christ through the sacraments, we consent to God's will so that we may be continually transformed, and the graces we receive through the sacraments allow us to be more fully who God created us to be.
When we examine our actions, we can use the poetic language of Hopkins as a guide.
- How have I kept grace and kept all my goings graces?
- How have I acted in God's eye what in God's eye I am?
- How has Christ played in the ten thousand places of my life?
Poem source: www.poetryfoundation.org