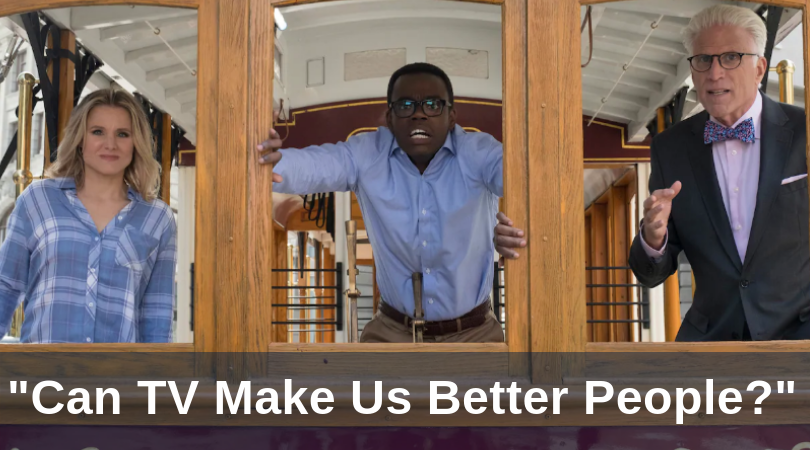 Members of the Notre Dame community gathered in Washington Hall on Monday, September 16 to welcome Mike Schur, creator of NBC's hit comedies The Good Place and Parks and Recreation. Along with Professor Meghan Sullivan, director of the God and the Good Life Program, and Christine Becker, associate professor of Film, Television, and Theater, Schur was tasked with answering the question:
Can TV make us better people?
Sullivan began by offering her opinion that watching a TV show can serve as the impetus for initiating those challenging conversations in life that can mold us into better people. Becker, somewhat less optimistically, reminded the audience that TV's sole purpose is to make money, which, while not precluding personal improvement, certainly doesn't intentionally promote it.
When asked for his thoughts on whether TV can make us better people, Schur simply stated: "If TV can't, then nothing can."
He went on to cite the statistic that on its opening day in theaters, the 2012 Les Misèrables film attracted more viewers than its Broadway counterpart did during the entirety of its run. The pilot episode of The Good Place has racked up 39 million independent viewers. He wove this into a larger point that if a medium that engages such droves of people has no effect on the populus, "We're screwed."
"Any art form that millions of people engage with has the ability to do something."
Schur thinks of The Good Place, a comedy steeped in moral philosophy that follows four individuals on their posthumous quest to discover what it means to be good, as his countermeasure against the vast majority of "terrible" TV that is focused on profiteering and that, consequently, has the power to make viewers bad people.
One of the characters in The Good Place, Eleanor Shellstrop (played by Kristen Bell), was one such bad person during her lifetime, and only ended up in The Good Place by mistake. Schur referenced the repeated frustration Eleanor experiences upon learning all of the complexities of moral philosophy, likening it to his own reaction. The Trolley Problem and Utilitarianism in particular gave him grief, but the genius behind The Good Place is that Schur uses his gift of humor to make moral philosophy accessible to a broad audience, thus combating the "prurient" and "weaponized" subject matter of so many other TV shows.
Schur felt he "owed it to the concept of writing to do something weird"—i.e., to pitch a show "about what it means to be a good person." In doing so, he hopes that viewers can not only enjoy The Good Place for its entertainment value, but also learn from the trials his characters face.
Chidi Anagonye, a kind and intelligent character who has a passion for moral philosophy and ethics, is held up as an exemplar for viewers. Chidi carefully weighs each of his options before deciding, albeit to a fault (it is ultimately his indecisiveness that leads to his death). Schur believes that one of the keys to using this character—and, by extension, TV—to become a better person is encouraging viewers to emulate Chidi's thoughtful deliberation in personal decision making. "You have to second guess yourself. Really think about why you're making this choice—is there a better option?"
If writers strive to create better TV, as Schur has done, they have the real potential to inspire audiences to become better themselves. That is, after all, the "explicit goal of the show."
The fourth and final season of The Good Place premieres tonight; seasons 1–3 are available on Netflix. Featured Image: Kristen Bell, William Jackson Harper, and Ted Danson in a still from The Good Place; source: nbc.com, fair use.