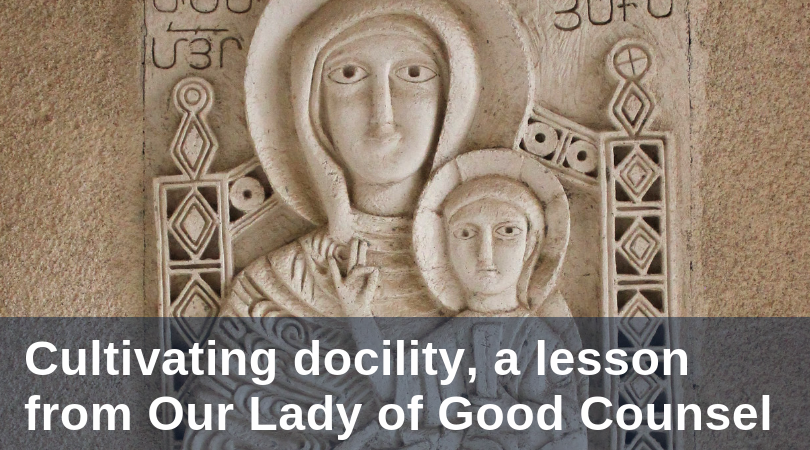 Yesterday's post discussed the human need for counsel on the path to heaven, an important point for today's feast of Our Lady of Good Counsel. It is the virtue of docility, or "teachableness," that opens our hearts and minds to receive counsel from prudent friends, mentors and teachers who are also seeking holiness.
Yet on our winding way home to God, there comes a point where all human knowledge and experience falls short: "the thoughts of mortal men are fearful, and our counsels uncertain" (Wisdom 9:14). Where salvation is concerned, we must also depend on the wisdom of God himself.
Docility to the Holy Spirit
Through the virtue of docility, we become receptive not only to human counsel, but also to the divine counsel that is a Gift of the Holy Spirit. Like Our Lady of Good Counsel, we must empty ourselves to be filled with the Holy Spirit. As Caryll Houselander puts it, this docile emptiness is like "the hollow in the reed…to receive the piper's breath and to utter the song that is in the heart." It is Mary's disposition before the angel Gabriel: "Be it done unto me according to thy word." In her humanity, Mary could not understand everything that was happening—but with docility she allowed the Holy Spirit to instruct and transform her. She proved to be a life-long student of wisdom: even where she did not fully understand God's plan, she "kept all these things and pondered them in her heart."
How can we, like Our Lady of Good Counsel, grow in docility to the Holy Spirit? This virtue is no strength of mine, but here are a couple tips that I have found helpful in the past:
Find a spiritual director. Often lacking in self-knowledge, we need human guidance to help us hear and interpret God's words. Even the greatest of saints recognized this need. St. Teresa of Avila sought guidance from several spiritual directors over the course of her lifetime, and St. Francis de Sales mentions seeking counsel from a spiritual director 15 times in his Introduction to the Devout Life.
Read books to help you understand the movements of the Holy Spirit in the human heart. Some of my personal favorites include Jacques Philippe's In the School of the Holy Spirit and Timothy Gallagher's The Discernment of Spirits.
Pray. On this the feast of Our Lady of Good Counsel, it's important to remember we are surrounded by a heavenly host that wishes nothing more than to welcome us into their company with open arms. Those faced with challenging decisions might pray the following prayer, penned by Pope Pius XII in 1953.
From the Novena to our Lady of Good Counsel
Holy Virgin,
moved by the painful uncertainty we experience
in seeking and acquiring the true and the good,
we cast ourselves at thy feet
and invoke thee under the sweet title of Mother of Good Counsel.
We beseech thee: come to our aid at this moment in our worldly sojourn
when the double darkness of error and of evil
plot our ruin by leading minds and hearts astray.
Seat of Wisdom and Star of the Sea,
enlighten the victims of doubt and of error
so that they may not be seduced by evil masquerading as good;
strengthen them against the hostile and corrupting forces of passion and of sin.
Mother of Good Counsel, obtain for us our most urgent need…
[here mention your request],
and secure for us from thy Divine Son
the love of virtue and the strength to choose,
in doubtful and difficult situations,
the course agreeable to our salvation.
Supported by thy hand
we shall thus journey without harm along the paths
taught us by the word and example of Jesus our Savior,
following the Sun of Truth and Justice in freedom and safety
across the battlefield of life under the guidance of thy maternal Star,
until we come at length to the harbor of salvation
to enjoy with thee unalloyed and everlasting peace.
Amen.
Photo credit: Beko/Israel, Wikimedia Commons