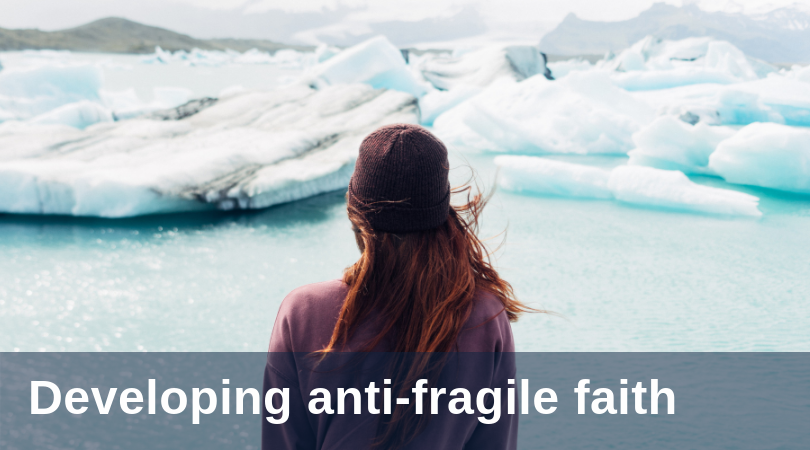 This January, I attended a talk by Fr. Mike Schmitz on "Anti-fragile Faith." In it, he posed a simple question: When you face difficulties in life, how will you face them? With a faith that is fragile or a faith that is anti-fragile?
What is fragile faith?
Fragile faith is a faith that breaks in response to life's difficulties. And when our faith breaks, we break.
Fragile faith is also a childish faith. It's foundation is an image of God-as-Santa. When we want something, we turn to God. And if we don't get the thing we wanted, we react like children: temperamentally, turning away from our Father because He's not giving us what we want.
With fragile faith, trust in God is conditional, rooted in questions like: What has God done for me? What has God done for me lately? The problems with having a fragile faith like this are evident. Less obvious is how to develop an anti-fragile faith.
What is anti-fragility?
Anti-fragility is a term first coined by author and professor Nassam Nicholas Taleb.
Anti-fragility is defined as a convex response to a stressor or source of harm (for some range of variation), leading to a positive sensitivity to increase in volatility (or variability, stress, dispersion of outcomes, or uncertainty, what is grouped under the designation "disorder cluster"). Nature, 2013 Feb 28; 494(7438), 430-430
Confusing? Me too. Fortunately, Fr. Mike explained it well. Anti-fragile systems encounter obstacles and come out of them stronger. Anti-fragile systems thrive in challenge, in stress and through difficulty. So anti-fragility isn't just about being tough enough to endure a trial; it means actually getting better in trial.
St. Paul and anti-fragility
In the letter to the Romans, Paul writes:
Not only [do we boast in hope of the glory of God], but we even boast of our afflictions, knowing that affliction produces endurance, and endurance, proven character, and proven character, hope, and hope does not disappoint, because the love of God has been poured out into our hearts through the holy Spirit that has been given to us. Romans 5:3-5
Obstacles, when faced with anti-fragile faith, lead us to a hope that does not disappoint because it is founded on a loving and trusting relationship with God our Father. That hope, grounded in our faith in a Good Father, allows us to pick up our crosses and bear them in joy, boasting in our afflictions and becoming more like Christ each day.
Developing an anti-fragile faith
So what steps can we take to make our faith more anti-fragile so that it will both survive and thrive in times of trial?
Accept that life will be difficult. The rain falls on the just and the unjust alike. Understanding ahead of time that life will present us with challenges allows us to be prepared to face them—and not feel like a victim when they arise.
See the challenge as gift. If we assume that a challenge weakens us, then it only makes sense to discount it as a setback. But assuming we develop an anti-fragile faith that actually thrives and improves through trial, then the challenge is a gift, an opportunity for growth.
Show up to prayer. This is the arena where we develop our relationship with God. Our faith matures in prayer and needs prayer to flourish. If we want our faith to be anti-fragile, it needs the firm foundation that only comes from regular time spent with the Lord.
Choose to act. The load is often legitimately heavy, but sometimes it "breaks us" before we ever put up a fight. In those cases, what breaks us is not actually the challenge itself but the intimidation of the challenge. The good news is that God doesn't ask us to finish the journey now or to resolve our life's troubles today. He invites us to take the next step. Figure out what that next step is and do just that one thing. Choose to take the next step.
Let go of the control. Letting God take the lead in life is hard, usually for two reasons: 1) We don't actually trust God. 2) We believe that we know better than God. Moving beyond these fears to deeper trust in God is not something we can do without grace. So, we ask for God's help. Here are some classic prayers to help us ask for the grace of greater trust in God:
The Suscipe Prayer - St. Ignatius of Loyola
The Litany of Trust - This version is from the Sisters of Life.
The Road Ahead - Thomas Merton
In all this, we place our hope in the Lord, choose to live with an anti-fragile faith and "consider it all joy...when [we] encounter various trials."