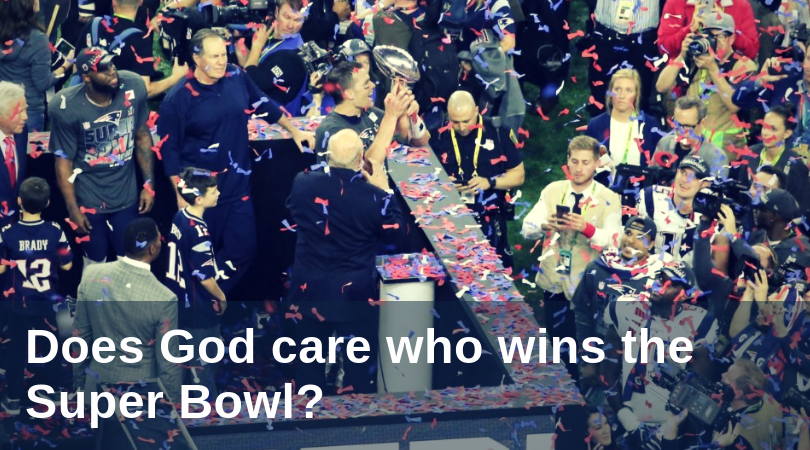 Please, God, please! Let Tom Brady play well tonight. Please, help my team to win!
My middle school self (please forgive me, but my team pride cannot help but highlight that the Patriots have been playing in Super Bowls for that long!) knelt at her bed, begging God to help her team win. Haven't we all, from children to seasoned fans, done this? Look at the stands at any close sporting match and you'll find people with eyes closed and hands clasped together in prayer as the clock winds down. We've prayed and bargained and pleaded with God when a game is on the line. And when victory is ours, we exclaim that God was on our side. However, does God really care?
God's active arena
I'm hesitant to speak authoritatively of God's cares and concerns, but I'm taking a wild guess that in fact, no, God is not concerned with which team hoists the Lombardi Trophy this weekend. Nor is the outcome of the game reflective of God's favor with one city or fan base. As much as we'd like to imagine God sitting courtside next to Sr. Jean or in the dugout giving a pep talk to our favorite batter on deck, I just don't believe that God cares about the outcomes of our NCAA March Madness brackets or World Series games.
Still, I do believe that our love of sport is an arena in which God is present, for fans and players alike. We are reminded of this by players' subtle, and sometimes not-so-subtle, acknowledgments of the Divine when they step up to bat, or find the back of the net, or hit that buzzer-beater. These athletes recognize (we hope!) that the opportunities to develop their talents and compete at the highest levels of their sports are blessings from God. When these opportunities are used well (that is, as pathways to holiness and a means to true human flourishing) rather than as avenues to personal fame and riches, I believe they are blessings from God.
The universal call to holiness
For those of us cheering from our living rooms, our pathway to holiness might look a little different. Indeed, each of our paths is utterly unique, not only from those of the professional athletes for whom we cheer but also from those of our neighbors. Pope Francis writes in Gaudete et Exsultate, "We are all called to be holy by living our lives with love and by bearing witness in everything we do, wherever we find ourselves," whether that be in a stadium in Atlanta, a high-rise office in downtown New York City, a classroom in rural Kansas or around our humble dinner tables. The beautiful truth is that holiness is not reserved for ordained clergy, cloistered nuns or theology experts. And thank God for that!
Truly, the witness of people pursuing holiness as they work in their daily roles can be a more powerful testimony of God's presence in our weary world than the good work done by those in more formal ecclesial roles. When an accountant bows her head in prayer before the start of a lunch meeting or the tired parent wrangles his brood of children to Mass or the NFL star, in victory and defeat, knows that there is more on the line than a Super Bowl ring, we catch glimpses of saints-in-the-making who are striving for holiness in their particular callings here and now.
That is what God cares about. That we are bearing witness to Him in love, using the talents and opportunities with which we have been blessed to make this world a bit more like the Kingdom of God. For most of us, our witness will not be actualized on a field with millions of people spectating. Yet, wherever we are and whatever we are doing, we can find ways to infuse the world with the Love that we have come to know, so that others may come to know Love, too.
So, yes, God probably does not care all that much about the scoreboard come Sunday, but God is present and grace abounds. And for that reason, you might still find me praying "Please, God, please, help my team to win!"
Photo credit: Voice of America, 2017 - Public domain