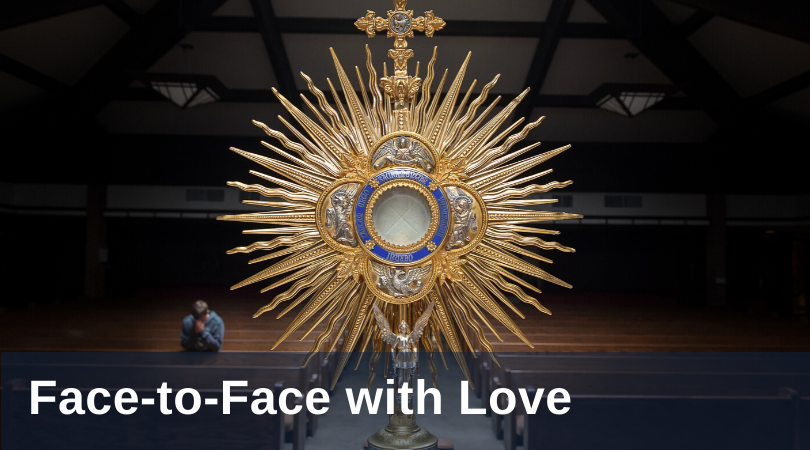 The greatest joy of my ministry as a middle-school religion teacher is seeing the faces of my students. Sixty-eight of them pass through my classroom each school day, every one of them a reminder that my work is primarily for another. Despite the multitudinous challenges they present, my students have taught me the truth about service. The joy which comes from working first and foremost for the good of someone other than myself has astounded me, concretizing for me the truth that ministry is life-giving because it is, and only insofar as we receive it as, a face-to-face encounter with Christ.
To draw on the thought of Jean-Luc Marion, it is in encountering the gaze of others that we are drawn out of ourselves. As we receive the gaze of another and simultaneously gift our gaze to him or her in return, we relinquish our self-preoccupation and are able to truly see the other. Such authentic self-forgetfulness springs neither from a false devaluation of our own intrinsic worth nor from a hatred of ourselves, but from the recognition of God's image and likeness present in the other, their infinite dignity stemming therefrom. Both we and those we serve are called by God to be with him for all eternity, a truth recognized only in the crossing of the two gazes. By encountering the gaze of those we minister to, and gifting our own gazes in return, we recognize this call and discover both our own dignity and the dignity of others. This is the heart of authentic love, and therefore of authentic ministry.
However, we cannot truly give our gaze nor receive the gaze of another without first receiving the gaze of Christ. We must allow ourselves to be pierced by his gaze that we might be capable of seeing and being seen. By his grace alone are we able to relinquish the veils which obscure our faces from others and from ourselves. As St. Paul writes to the Corinthians, "Now we all, with unveiled face, beholding the glory of the Lord, are being changed into his likeness from one degree of glory to another" (2 Cor 3:18). It is in beholding his face that we begin to forget ourselves. Thus self-forgetting is only possible when we allow Christ to give us his own heart: he alone can free us from the veils each of us hides behind to enable us to love. To refuse his gaze is to bind that veil more tightly about ourselves until we are finally bound in a shroud of our own making. But to be unveiled before Jesus and behold his face is to become like him, to receive his heart, and be perfected in love.
How, then, does one receive the gaze of Christ? In the Eucharist. A peasant from the town of Ars once described prayer before Christ present in the Eucharist to St. John Vianney in this way: "I look at him, and he looks at me" (see CCC, §2715). Yes, we look at Christ, and he looks at us, and it is in this gaze that he gives us his heart so that we might love one another as he has loved us. This is the reason for the inseparable nature of the Eucharist and service. The Eucharist must be the source and summit of our ministry, the stronghold of love from which we can truly meet the gaze of all.
Let us remember that there is no greater way to prepare for the ministry to serve others than to spend time before Christ in the Eucharist, that he might enable us to encounter the gaze of all those we serve and continue to prepare us to finally see him face to face for all eternity.
Like what you read? Submit your email below to have our newest blogs delivered directly to your inbox each week.
Feature image by Josh Applegate on Unsplash