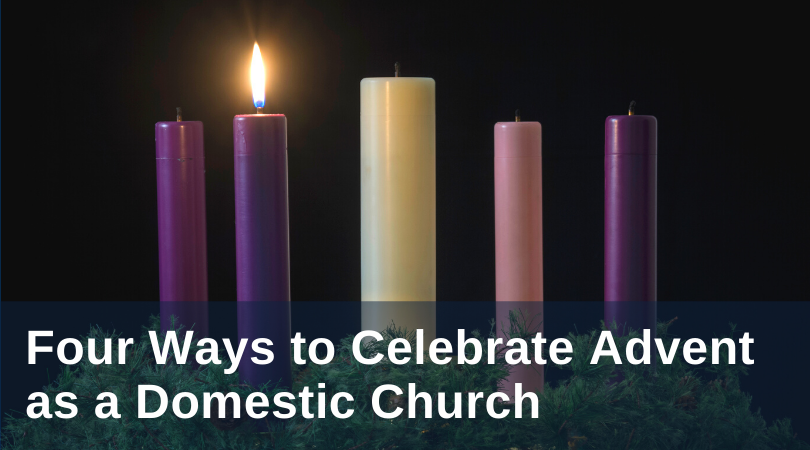 It's no secret that Advent will look different this year than in years past. Take advantage of the extra time at home with your family to intentionally prepare your hearts for the birth of Christ. Below are four ways to celebrate Advent in your home.
Prayer around the Advent Wreath
On Sundays, as you light the next candle on your Advent wreath, take some time to pray as a family and reflect on the theme for the week by reading the Scripture passage and singing the hymn suggested below. If you have a favorite Advent reflection, feel free to read that instead!
First Sunday (Hope):
Reading: Hebrews 6:9–20
Hymn: Come, Thou Long-Expected Jesus
Second Sunday (Peace):
Reading: Isaiah 9:1–6
Hymn: Creator of the Stars of Night
Third Sunday (Joy):
Reading: John 15:1–11
Hymn: People, Look East
Fourth Sunday (Love):
Readings: 1 John 4:7–11; 1 Corinthians 13:1–8
Hymn: O Come, O Come Emmanuel
Our Lady of Guadalupe
Our Lady of Guadalupe is the patroness of the Americas. Celebrate her feast on December 12 as a family by reading her story, honoring an image of her in your home, making tissue paper roses, and more! The links below have great suggestions.
Building a Manger
Advent is a time to prepare our hearts to receive the infant Christ on Christmas Day. This is a visual representation for children of how this preparation takes place at every moment of the day, not just at Mass or in times of prayer. Have your child construct a manger out of construction paper or a tissue box. If you don't have a baby doll that will fit in their manger, have them color or draw a picture of baby Jesus. Hide the baby Jesus and promise to give him to your child on Christmas. Throughout Advent, whenever your child performs a good act, he or she may put a piece of straw (real straw or strips of yellow construction paper) in the manger (or maybe multiple pieces of straw if they are exceptionally good!). You can decide what merits this. Some examples are: doing chores without being asked, taking the initiative to apologize to siblings after a fight, or being obedient to what you ask of them without complaining. On Christmas morning (or perhaps after Christmas Mass), gift the aforementioned baby Jesus to your child to place in the manger and thank them for working hard to give him a soft bed!
The manger represents the heart, and the pieces of straw represent virtues or good actions. The goal is to have a manger full of straw by Christmas morning so that baby Jesus has a comfortable place to lay his head, for this manger represents a heart that has worked to prepare itself to welcome him.
Make Christmas Cards
More than ever, we should be attentive to those celebrating the holidays in isolation. A simple way to let people know that they are not forgotten is to make them Christmas cards that speak words of hope and joy. There are several groups you can make cards for! Make cards for neighbors, homebound parishioners at your local parish, health care workers, those in the military, nursing homes or prison. If you aren't going to see loved ones you normally get together with this time of year, make them a card. Never underestimate the love one can feel in a homemade card filled with words of hope and love!
This year we may notice greater quiet as the pandemic prevents us from the large holiday gatherings that might be familiar to us. Let us remember that Christ was born on a silent night in a messy stable and trust that he can also be born in the humble mess of the domestic church, our own homes.
Like what you read? Submit your email below to have our newest blogs delivered directly to your inbox each week.