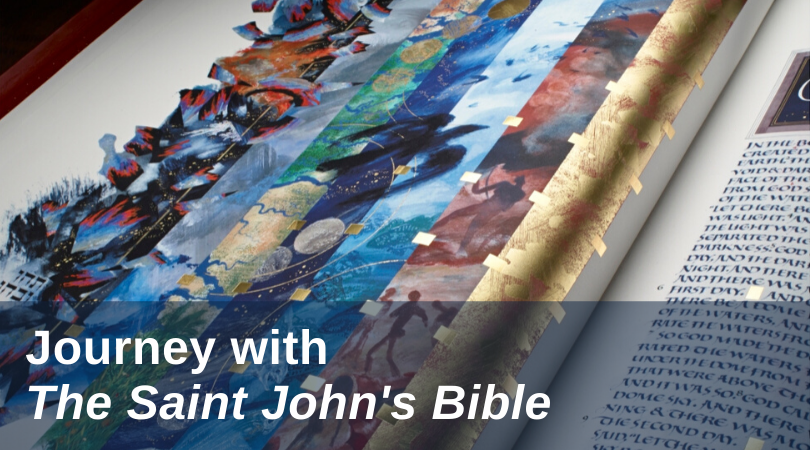 If you haven't had a chance yet to make the McGrath Institute's "Journey with The Saint John's Bible," there's still time. This free, six-unit online course offers a glimpse into the history and production of illuminated manuscripts from thousands of years ago up to The Saint John's Bible itself, a modern, hand-written, hand-illuminated Bible commissioned by Saint John's University in Collegeville, Minnesota, and spearheaded by Welsh calligrapher Donald Jackson.
Begun in 2000, completed in 2011, The Saint John's Bible boasts nearly 1500 pages, and 169 different illuminations and text treatments, and was created using similar techniques and materials as the stunning manuscripts created during the medieval period.
In addition to the foundational look at the manuscript tradition, the course takes a deep dive into five of the stunning illuminations from The Saint John's Bible: the Creation, the Ten Commandments, the Pillars of Wisdom, the Psalms Frontispiece, and the Word Made Flesh. Featuring experts from Notre Dame's Department of Theology and Medieval Institute, as well as the McGrath Institute for Church Life, units two through six offer explorations of the illuminations and the Scripture passages they depict, as well as guided experiences of prayer with Scripture and art, known as lectio divina and visio divina respectively.
Beauty has an immense power to lift and comfort the heart, and Scripture has an immeasurable power to speak to the soul. This course offers an experience of scriptural beauty, which opens up a space within the heart of the viewer wherein an encounter with the Word of God may take place. The richness and slower pace of its video lessons allow for greater absorption of the material presented, and the intentionally repetitive, rhythmic structure of its guided prayer experiences encourage deep contemplation.
The course launched this past Ash Wednesday, and is available until May 31, 2020. Join the more than 1300 people who have already signed up to make the "Journey with The Saint John's Bible."
Visit our website to learn more about the course and register for "Journey with The Saint John's Bible."