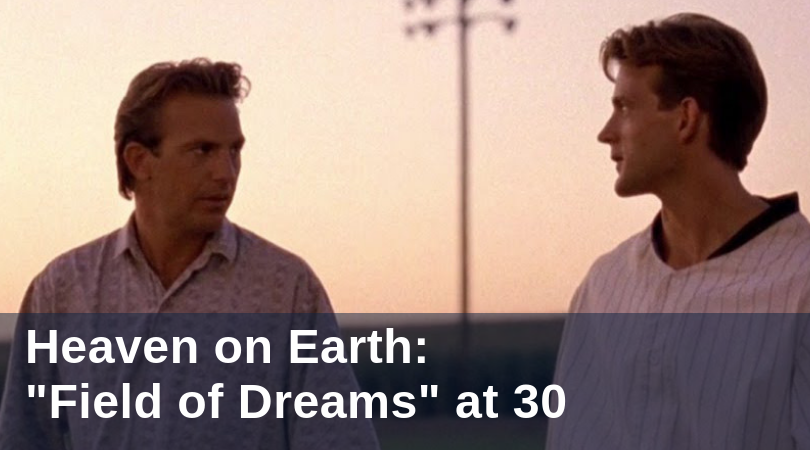 Thirty years ago, we stood with Ray Kinsella in an Iowa cornfield, where we heard a voice say for the first time, "If you build it, he will come." Hailed by sports and cinema enthusiasts alike as one of the greatest baseball movies of all time, Field of Dreams has consistently moved audiences precisely because it's about so much more than baseball. It's about hearing, accepting, and sharing a call. It's about perseverance in uncertainty and adversity. But more than anything, it's about reconciliation.
Hearing, Accepting, Sharing a Call
Field of Dreams would have been a much shorter movie (perhaps entitled Field of Financial Practicality) if Ray had ignored the voice, but something in the depths of his heart compels him not only to listen, but to act, and his faith-filled action is rewarded: Shoeless Joe Jackson and dozens of other deceased greats come to his field and play baseball.
In many ways, Ray is like St. Francis of Assisi or St. Katharine Drexel, giving up financial stability for the sake of something greater. Unlike these saints, Ray's motivations in accepting his call aren't unimpeachable: at a certain point he asks Shoeless Joe, "What's in it for me?" In the end, though, Ray realizes that one's call isn't about the self at all. It's about forgetting the self for the sake of finding it in that something greater, drawing others to the same discovery through self-forgetting.
Ray receives some pushback along the way: his wife Annie doesn't understand his call at first, even less his inexplicable desire to do as the voice commands (and commands, and commands), but when she herself receives confirmation in the form of a dream, she becomes like St. Joseph, accepting the mysterious depths of what her spouse is facing, supporting him unquestioningly as he continues his journey of faith, contenting herself by simply saying, "Hey—someday explain all this to me, okay?"
Terence Mann is also skeptical of Ray's mission at first, but undergoes a conversion of heart when he receives a glimpse into the supernatural forces at work. Even Mark, Annie's brother and Ray's staunch critic, ultimately sees the light when he is at last able to see the field for what it truly is.
Perseverance
Ray plunges into the unknown when he plows under his corn; he journeys into the dark when he travels to Boston to find Terence Mann and to Minnesota to seek out Moonlight Graham. He perseveres in spite of quizzical looks, insults, and the threat of financial ruin, and in the process, he opens others up to the possibility of the miraculous taking place in the ordinary—the heavenly infiltrating the earthly through something as unlikely as a baseball field.
Ray is encouraged in this perseverance by his loved ones, especially his daughter Karen, who not only alerts him to the first appearance of Shoeless Joe Jackson ("Daddy, there's a man out on your lawn."), but also prophesies a future in which others will not only delight in the field and the players, but will also save the Kinsellas from bankruptcy ("People will come!"). "Out of the mouths of babes and infants" (cf. Psalm 8:3), Ray receives the reassurance he needs, and discovers new strength to reject the voice of practicality that would silence the voice of faith.
Reconciliation
Without a doubt, reconciliation is the most powerful current that sweeps through Field of Dreams. Wrongs are righted as Shoeless Joe takes the field after having been banned from baseball during his life. Identities are restored as Terence Mann resolves to write again ("Shoeless Joe Jackson Comes to Iowa"). Dreams once set aside are finally realized as Moonlight Graham steps up to the plate. Family conflicts are resolved as Mark comes to believe his niece, his sister, and her husband. But the most profound and miraculous reconciliation is, of course, between Ray and his father.
In the opening credits, Ray describes a strained relationship with his father. As he converses with Terence Mann, Ray reveals that he himself caused their estrangement, expressing regret over his actions. He acknowledges that while he can't bring back his father, he has at least brought back his father's hero, Shoeless Joe Jackson, and finds a small degree of comfort in this. Yet, at the end of the film, it is Shoeless Joe who ushers in the seismic shift, revealing that it wasn't he himself but Ray's father, John Kinsella, who was the object of the voice's mysterious commands all along: "If you build it, he will come." "Ease his pain." "Go the distance." In the face of this revelation, Ray's eyes are opened, and he is finally able to see his father on the field (who knows how long he has been there?). Ray speaks to him, introduces him to his family, and finally, finally, with voice breaking, asks like a small child would, "Hey, Dad, wanna have a catch?"
The beautiful poignance of this conclusion lies in its simplicity: here, reconciliation is hard-fought and long-awaited, but it is manifested in something as ordinary and as pure as a father and son having a catch. And in this moment, heaven and Iowa are indeed one and the same place.
Featured Image: Kevin Costner and Dwier Brown in Field of Dreams; Source: Movieclips, fair use.