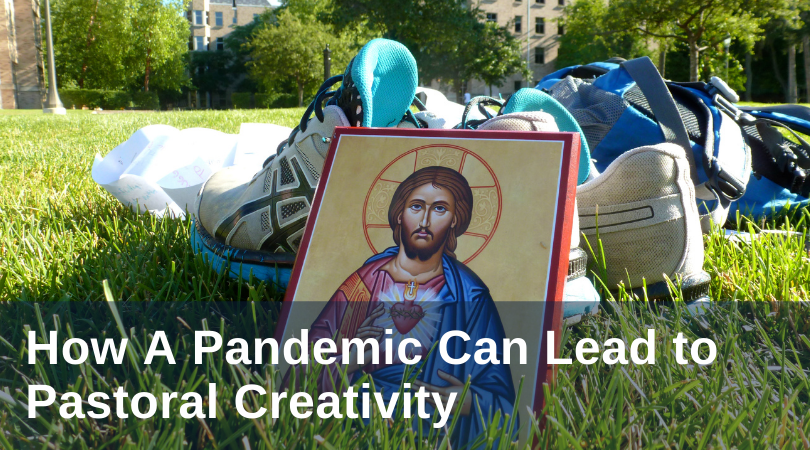 At the heart of Notre Dame Vision is the mission to empower young people to recognize grace at work in their lives and respond to God's call by offering their gifts in service to the needs of the world. For the past eighteen years, this mission has been carried out each summer through four week-long conferences for high school students and parallel conferences for campus and youth ministers.
When the COVID-19 pandemic led to the cancellation of all in-person programming for the McGrath Institute for Church Life in the summer of 2020, Vision's mission continued through the pastoral creativity of its undergraduate Mentors-in-Faith. These Notre Dame, St. Mary's, and Holy Cross students had already spent months engaging in theological, pastoral, and spiritual formation, preparing to work as leaders in the Notre Dame Vision summer conferences for high school students. With summer conferences canceled, their ministry was reimagined, opening up other ways for them to utilize their formation.
The Mentors were invited to turn their attention to their own communities. Their task was three-fold:
Identify a population of interest

Assess a pastoral situation

Develop a plan for response
Grounded in a life of prayer, they listened attentively to the people of a specific community, worked to identify and prioritize their needs, and developed a pastoral response drawing on the richness of the Church.
In turn, the staff of Notre Dame Vision responded to this shift by crafting a process entitled "Pastoral Creativity in the Community" to assist the Mentors in their task, specifically by helping them cultivate dispositions of curiosity, wonder, compassion, empathy, humility, and generosity, and by providing a series of movements by which they could progress from idea to action to reflection.
The six movements of "Pastoral Creativity in the Community" include:
Preparatory Reflection
Identify Community
Listen to Community
Ponder Community
Respond to Community
Reflect on the Process
This not only provided structure for the Mentors' self-guided work, but also space for them to discern whom and how to serve, as well as flexibility to adapt to the uncertainty of local situations and the limitations of the pandemic.
The Vision staff provided ongoing accompaniment throughout the summer to help the Mentors attend not only on the "project" or "product" they would "produce," but also to the process unfolding within them—both the work of the Holy Spirit in their hearts, and their own work of patient, attentive listening with humility, openness, and compassion toward a community of concern in their lives.
This series will explore the dimensions of "Pastoral Creativity in the Community" in more detail. It is our hope that ministers may find inspiration, ideas, and resources for adapting this process to develop creative responses to the ever-changing needs of their own communities.
Click the button below to learn more about our Notre Dame Vision program: