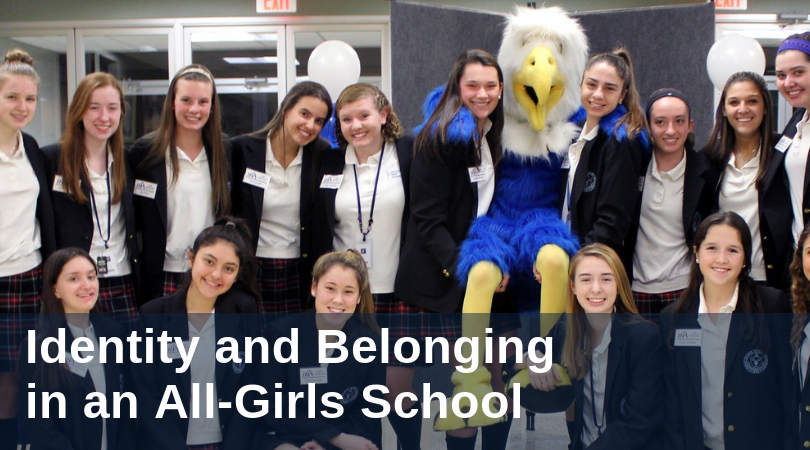 The questions "Who am I?" and "Where do I belong?" are complicated for any high schooler, and perhaps even more so for young women attending a competitive, all-girls Catholic school. Sarah Shutrop, Director of Campus Ministry at Immaculate Heart Academy in Bergen County, New Jersey, helps many young women navigate the journey of self-realization and understanding one's place in the community. On Church Life Today Shutrop discussed how the academic rigor of the college prep school often creates a culture of competition among women, making it difficult to feel a sense of belonging during a particularly formative period of their lives. The increasing influence of social media, especially Instagram, in which one's image is carefully curated, adds to this problem by making it easier to label and define girls in superficial ways.
That's why Shutrop leads weekly discussion in small groups she calls "Christian communities," in which questions of identity and belonging are the central focus. These communities contain an eclectic mix of girls on different sports teams, in various social circles, and of many talents. Girls who don't frequently cross paths are placed at the same table every week. Shutrop is committed to fostering an environment in which everyone can be successful and feel an authentic sense of belonging. She begins each session with the question, "Where are you coming from this week?" This question needs to be asked of young people more frequently, as a reminder that it's okay to be vulnerable sometimes.
I too attended all-girls Catholic school and was fortunate to find a space for vulnerability and sisterhood in the Campus Ministry office. My school was fairly competitive and filled with the pressure to succeed, which made it easy to put up walls and compare oneself to other girls based on academic, athletic, and social measures. Although I loved high school, I certainly experienced moments of apprehension about how I stacked up against the other girls in my class. It's crucial for every young person to have conversations in spaces where academic ranking, athletic ability, and social influence don't matter—a space in which labels disappear and we can see each other with clear eyes and open hearts.
It's important for the captain of the basketball team, the lead in the school play, and the shy and studious girl to share each other's joys and burdens. In many ways, Campus Ministry fosters a sense of belonging and identity that runs deeper and is more fundamental than that felt for a sports team or social circle. Campus Ministry helps young people understand that they are not a sum of what they do and how they perform, but rather a loved member of an intimate community, built on understanding and compassion.
Shutrop's discussion can be heard in full here on Church Life Today, a podcast produced by the McGrath Institute for Church Life.
Photo Credit: Immaculate Heart Academy; used with permission.