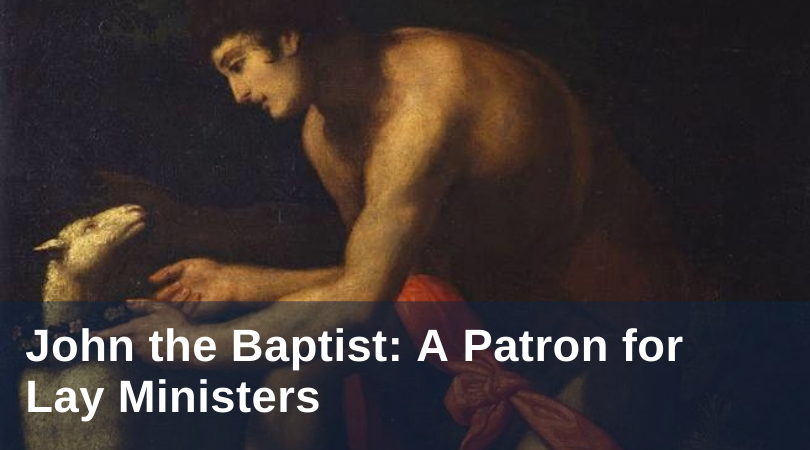 I recently asked a mentor in ministry to recommend a retreat emcee. Rather than replying with the qualifications of her most accomplished colleagues or students, she named two people who could lead the retreat "without getting in the way." As I recall who broadened and deepened my understanding of the Catholic faith, they are either people without social and educational distinctions, or people committed to the hard, ongoing work of putting their qualifications and education at the service of their baptismal call to live the Gospel. They are people like John the Baptist, free to actively point others not toward themselves but toward Christ. John the Baptist's preparation for ministry in the desert is particular to his circumstances. Still, his presence to others without getting in the way and service that intentionally invites Christ into his efforts is a model for ministry.
Presence Without Getting in the Way
John went into the desert not to retreat from humanity, but to fully give himself over to offering the baptism of repentance to those eagerly awaiting the Messiah. He gave up the familiar to devote himself fully to the task.
As a minister, part of my work is to listen well—to be present to—the ever developing needs of the other, the Church, and the world. In relationships, spiritual direction, and prayer, I continue the formative work of becoming self-aware so that my personal experience does not become a distraction from my ability to listen. Attentive listening builds trust and reveals a way from what is familiar and known into a deeper understanding of our human family. John the Baptist went into the desert so that "[Christ] must increase, but [he] must decrease" (John 3:30). In this same spirit, ministers enter into the desert of formation to acquire a deeper understanding of the human family.
Inviting the Spirit to Evolve Our Ministry
John the Baptist's ministry was to prepare people to recognize Christ. His zeal for ministry comes from his relationship with the Word of God, his total belief in Scripture's promise that one more powerful than he is coming. "I baptize you with water; but one who is more powerful than I is coming: I am not worthy to untie the thong of his sandals. He will baptize you with the Holy Spirit and fire" (Luke 3:16). As ministers and Christians, we also can deepen our relationship with the Word of God in prayer. In prayer, we make ourselves, our efforts, and our intentions present to Christ. Prayer prepares us to unreservedly invite Christ to receive, animate, and sanctify our efforts to build the kingdom. Here are three ways that I invite God into my ministry:
Pray for my students by name each week
When one of my friends and graduates of the Echo program asked me how I was praying for my students, I realized that what I thought was prayer was actually worrying. I now begin each week calling Echo students, their mentors, and our partners across the country and in Ireland to mind in prayer. I make note of action items that surface during prayer, but these 20 or so minutes are reserved to ask for God's blessings on them and their communities of service.
Take a professional retreat once or twice a year
Once or twice a year, I make a retreat to pray for my students' intentions and ask God for wisdom and direction in my ministry.
Name the labors that I offer to God
I name specific situations and projects that I have invested time in and offer those labors to God at the end of the day in an examen or at the offertory in Mass.
In the spirit of John's ministry in the desert, these are a few ways that I retreat from the ever-growing list of action items to encounter God and the intentions of my students.
John the Baptist's model of ministry and intercession has encouraged me to continue pursuing professional training and human formation, but to place this training and all my best efforts in the care of our God, the source of our salvation. St. John the Baptist's fully committed human effort still yearned for what only the divine can offer and this is a model for ministers.
Like what you read? Submit your email below to have our newest blogs delivered directly to your inbox each week.
Featured image: Giovanni Baglione (1566–1643), Saint John the Baptist Wreathing a Lamb (ca. 1630–1640); PD-OLD.