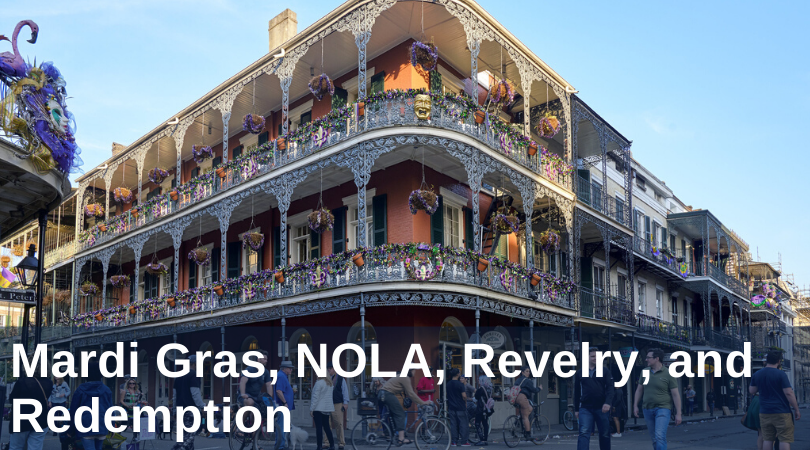 Editorial Note: This post is an excerpt from the essay "New Orleans and the Catholic Imagination," originally published at Church Life Journal on February 28, 2017.
As I woke up this morning in northern Indiana, I felt deeply sad. Some might assume that it is the perma-cloud that has reasserted its wintry authority over South Bend. Some would tell me that it's the pile of papers that must be graded over the next three days.
Both are wrong. It's because today is Mardi Gras, and I'm not in New Orleans.
When I tell people that I love New Orleans especially around Mardi Gras, a number of assumptions are made about me as a person. People imagine me as the kind of person who likes to wander drunkenly down Bourbon St., my feet immersed in some unidentified liquid, while my body brushes against a crowd of half-clothed human beings.
They think to themselves how can a Catholic theologian, who is supposed to be piously engaged in theological education and research, enjoy this kind of debauchery? . . .
Yes, whenever I go to New Orleans, I tend to wander back somewhere between 2 or 3 in the morning, hoping to catch the streetcar along St. Charles Ave. Yes, I have taken not a few "to-go" cups through Downtown and Uptown alike. Yes, I often eat seafood and pastries to the point of near illness. New Orleans (and thus I) know sin.
But, this is why New Orleans is that most Catholic of all cities. A civilization built upon the Mississippi River, New Orleans is aware of the fragility of human life. . . .
It is a city that cannot escape nature, precisely because the natural world threatens to take over at any moment. You get a sense in New Orleans that if everyone left the city for two months (as they had to after Hurricane Katrina) that the creatures and foliage of the Mississippi Delta would just take over. Human beings may get to abide in this space for a bit but not forever. It's not ours after all.
I don't want to make the fragility of this city a matter of some bourgeois Romance. After all, the fallenness of New Orleans often exerts itself in corrupt governmental officials, in poverty, in racism, and in violence that breaks out on city streets. . . .
Still, what makes New Orleans a Catholic city is the manner in which the human drama of the fall is related to that of the redemption. Mardi Gras, no matter how secular it has become to the average pervert who knows the city best from Girls Gone Wild, is marked by the arrival of Ash Wednesday. At midnight tonight, as the revelers seek to extend the party until the wee hours of the morning, the street cleaners head down Bourbon St. to wash away evidence of the sin. The sacramental cleaning of a city that is to effect our own turn back to God. . . .
This kind of revelry may be offensive to those of us who are prim and proper in our religiosity. Those of us who have taken on the difficult disciplines of Lent, who get up early to pray, who engage in strenuous fasts of alcohol and sweets, longing for the arrival of Easter. We prim and proper folks turn Lent into an exercise related to our own remarkable ability to abstain, sure all along that we have somehow saved ourselves.
Maybe there's something about Catholicism that we theologically proper folks can learn from the city of New Orleans. Yes, the season of Lent is a time for a return to God. It is a time to get rid of all those things that cool our hearts from the warmth of divine love. To do penance for all that we have done wrong and all that we have failed to do.
But, it's not a time marked by joylessness. It's not a time in which we put on our own proper, pious faces, avoid smiling, and take upon ourselves forms of fasting that become nothing more than exercises in our remarkable self-reliance. Christ has risen, after all. And we can't pretend otherwise, even in Lent.
Lent, like every day in New Orleans, is part of a season of grace where the fragility of human existence is recognized, at the same time that the party continues.
Featured image: Pedro Szekely via flickr; CC-BY-SA-2.0.