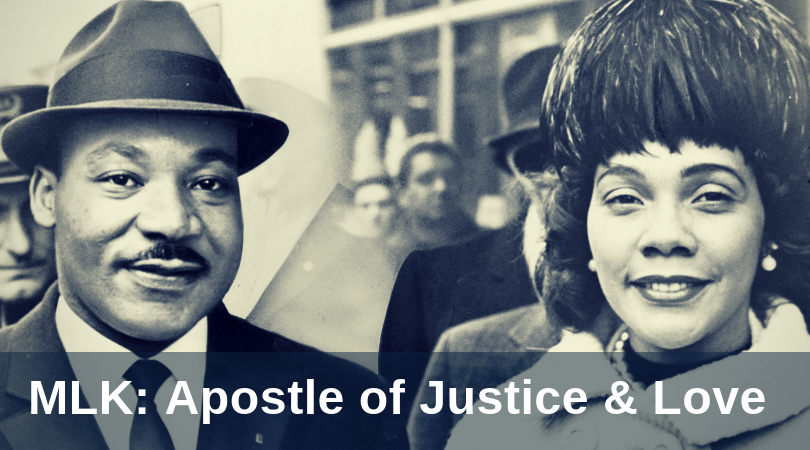 [We] bow together in grief before the shameful murder of Dr. Martin Luther King, Jr., a unique apostle of the non-violent drive for justice.1
Today we echo the Catholic, Protestant, Orthodox and Jewish leaders who together honored Rev. King after his death in 1968, exhorting Americans to take up his mantle as "apostles of justice." But especially given today's tense political climate, we should also remember his refusal to sever justice from love. If King was an "apostle of justice," it's because he was all the more an "apostle of love."
What is the summum bonum of life? I think I have found the answer, America. I have discovered that the highest good is love. This principle is at the center of the cosmos. It is the great unifying force of life. God is love.2
Over 50 years later, King prods us to ask ourselves, "How can I be an apostle of justice and love?"
Think about how strange this combination is. Justice has an angry ring to it, evoking images of judgment, right and wrong, hellfire, brimstone and battle lines. But love is warm and sweet, evoking tenderness, affection, reconciliation. How do the two fit together?
King's little volume of sermons Strength to Love points us in the right direction: real love isn't weak and passive, but strong and courageous. Nor does love blindly overlook injustice in order to please people. That isn't love; it's "emotional bosh."3 Pope Benedict XVI similarly writes that love without truth is an "empty shell" of sentimentality.4 So the first task for an apostle of justice and love is humbly to seek the truth about right and wrong.
Yet truth without love is harsh and ineffective. For King, a "tough mind" will lead to true justice only if united to a "tender heart." Another task for an apostle of justice and love is to affirm the precious, though flawed, humanity of those who commit injustice. King believes that fear lies at the root of most injustice and hatred—fear of change, social censure, economic loss, pain, the unknown, anything. Too often people hate and mistreat the objects of their fear.5 And this helps explain why, paradoxically, justice alone can't fix injustice. Or at least, human justice isn't enough: Supreme Court decisions and legislation are necessary to regulate external behavior, but they can't transform hearts. Only love can do that. Love completes justice by casting out fear and meeting hatred with friendship. King quotes Lincoln's quip, "Madam, do I not destroy my enemies when I make them my friends?"6
Nobody is immune to injustice. We've all been wronged by someone—whether it be a friend, spouse, coworker, political opponent, social class, internet troll or The Man. King challenges us to restore every wounded relationship with a creative balance of justice and love. Call out wrongdoing for what it is, yet all the while cherish those doing the wrong.
The task is hard. Impossible even, by human efforts alone. Thankfully, King reminds us time and again that the ultimate source of both justice and love is not human, but divine. A "tough mind" is one that knows God's law; a "tender heart" is one that overflows with God's love. Faith in God replaces existential fears with hope in everlasting life, and grace bestows the strength to love.
When the days grow dark and nights grow dreary, we can be thankful that our God combines in his nature a creative synthesis of love and justice that will lead us through life's dark valleys and into sunlit pathways of hope and fulfillment.7
[1] Interfaith statement following the assassination of Rev. Dr. Martin Luther King, Jr. (14 April 1968).
[2] Martin Luther King, Jr., Strength to Love (Minneapolis: Fortress Press, 2010), 152.
[3] Ibid, 46.
[4] Benedict XVI, Caritas in veritate (2009), #3.
[5] King, 125.
[6] Ibid, 49.
[7] Ibid, 9.