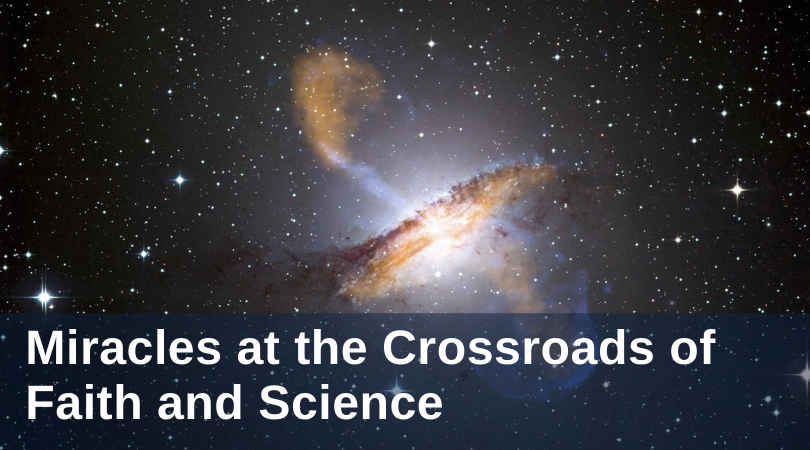 Editorial Note: This post is the first in our #FaithAndScience series which will be published twice a month over the next several months. Follow along with us as we address topics such as the human soul, evolution, and others.
Nearly every New Orleans Catholic I know has walked it at least once—the Nine Church Walk on Good Friday. This six-mile-long Creole Calvary leads hundreds, even thousands of the faithful across the ankle-spraining peaks of aged sidewalks, past ornate Acadian-style houses and sprawling oak trees, through the heart-piercing alleys of city poverty, under the shadow of downtown skyscrapers, and into the heart of the French Quarter. It's a path I've traversed in prayer and fasting for decades, for many years taking turns carrying each of my children on my shoulders over terrain that bests even the best baby strollers.
At the geographical midpoint is the Blessed Francis Xavier Seelos Center, the shrine at St. Mary's Assumption Church on Josephine Street, where the faithful line up to be blessed by a crucifix which Blessed Francis Xavier Seelos (1819–1867), a holy, beloved German priest whose spiritual mentor was St. John Neumann, carried across the United States on missionary journeys before blessing New Orleans with his final year of life and ministry, where he like many others succumbed to yellow fever.
I have had this crucifix pressed to my own forehead more times than I can count, and was reminded of these annual blessings when I watched a news story last November about Carson Joseph, a baby born on Mardi Gras day, who was blessed with Seelos' crucifix as he lay dying from severe brain bleeding. Within hours and without extraordinary medical treatments, he recovered and began to thrive, with 100% normal neurological functioning and no signs of neurological damage. In the words of Fr. Gil Enderle, the postulator of Blessed Seelos' cause for canonization, "We have an unexplainable cure." It awaits investigation by the Vatican Congregation for the Causes of the Saints. While Seelos' canonization hangs upon that official word, the case of Carson Joseph beckons Catholics to better understand what theologians mean when they use the word "miracle."
French theologian René Latourelle offers a lengthy but precise definition: a miracle is "a religious wonder that expresses, in human beings and the universe, a special and utterly free intervention of God, who uses it to give human beings a sign of the presence of his message of salvation in the world" (Dictionary of Fundamental Theology, 702). In our scientifically literate culture, miracles only make sense if we place them in the context of God's plan for the universe. Thanks to God's loving providence, not simply by its own power and in no way predictable by the laws that govern it, the universe and human life are journeying to a fulfillment in which evil, pain, and suffering will be no more. If this is the case, then miracles such as miraculous healings are streams of light breaking through the ordinary, temporary, imperfect "old order" (Rev 21:4) of things. Miracles allow us to glimpse the advent of a new set of laws for the universe, through which the material universe will perfectly radiate the higher, spiritual realities of love and freedom. In other words, miracles are only "interventions" based on our feeble, limited perspective; they are actually the real meaning of existence and of human life, a meaning which is so often shrouded from view.
A proper theological account of miracles shows the difference between the veneration of the miracles of Christ and the saints, on the one hand, and an utter disrespect for nature and natural causes on the other, which is no less than disrespect for their Creator. Miracles only makes sense in the context of faith and salvation, the domain of human persons. To posit miracles at the beginning of the universe or at the origins of life (as some creationists do) is to misunderstand them, for there were no human beings to receive the divine signs, the religious wonders, of miracles billions of years ago! Also, miracles do not replace natural processes and patterns in nature by inserting God's direct action as an explanation for the way things normally occur. As moments of salvation and divine signs that teach, miracles are singular events by definition; when they occur, they cause astonishment precisely because they are not the way things usually happen.
It might help if we think of life as a Nine Church Walk across broken but beautiful pathways, making our way from sacred moment to sacred moment. The entire path is holy and it ends with a Good Friday service for us all. Yet beyond death lies the resurrection and eternal life. Miracles, so rare and yet so precious, are moments of transfiguration, where we see that the road leads us beyond its natural destination, where "[God] will wipe every tear from their eyes, and there shall be no more death or mourning, wailing or pain, [for] the old order has passed away" (Rev 21:5). As we complete that path, may Francis Xavier Seelos be there to greet us.
The McGrath Institute's Science & Religion Initiative recently produced a free resource that addresses questions at the intersection of faith & science. If you'd like to receive this resource in your inbox, submit your email below: