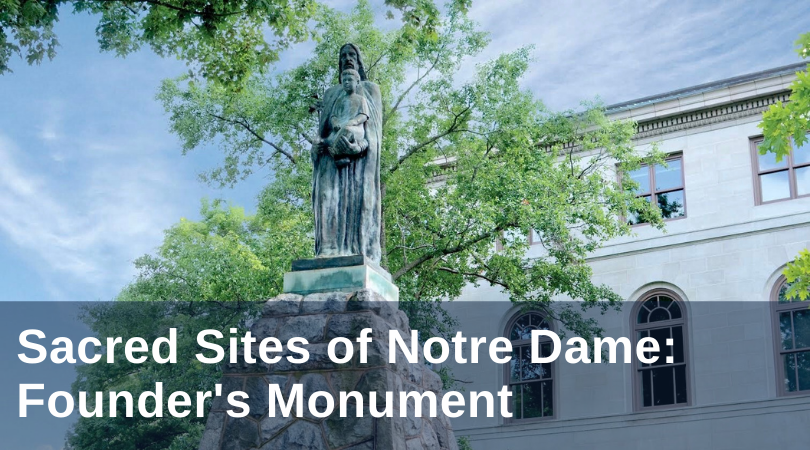 Hidden among tall trees and larger sites like the log chapel, the Grotto, and Old College is the Founder's Monument, which commemorates the arrival of Fr. Edward Sorin and seven Holy Cross brothers in 1842. A statue of St. Joseph holding the child Jesus overlooks Saint Mary's Lake. Across the pathway, a sign presents Fr. Sorin's letter to Blessed Basil Moreau, sharing the joy of arrival and imagining what God, in his providence, might one day do with the gift of this place.
The place has its own natural beauty and its strategic promise, as Fr. Sorin observes. But what moves me is thinking about the hearts of those founding community members, who came here thinking of "what is above, not of what is on earth," their lives "hidden with Christ in God" (Colossians 3:2–3). Each of them gave over his life in poverty, chastity, and obedience, and each of them also volunteered, beyond the requirements of obedience, to be part of Holy Cross's mission of education outside of France. This was not easy. All of the members suffered in various ways; some even died tragically. Still, their lives bore great fruit through Notre Dame and the other Holy Cross ministries.
We can see in Notre Dame's founders that God's providence is not magical. These were human beings with plenty of their own sins and squabbles. But they shared together in a dream, and they trusted that God would draw others to himself, in some mysterious way, through the crosses they carried. When we trust in God's providence, we are not relying on a natural, causal process, like a technology. (How boring that would be!) Nor are we relying on our own power. Yet this does not mean our trust is blind. We trust, and hope, remembering that God, in his freedom, marvelously fulfills his promises—often in costly ways, and in ways beyond our imagining. God's providence breaks through in hearts like the founders', like ours, which become purified by God's love when we surrender ourselves to his promise. "Everyone who has this hope based on [God] makes himself pure, as [God] is pure" (1 John 3:3). This hope ignites the "purity of soul" that, Fr. Sorin writes to Fr. Moreau, "should mark the new inhabitants of this chosen spot."
The Gospel of Matthew presents St. Joseph as a model of this hope and this purity. Perhaps this is why a statue of him was chosen as the Founder's Monument. When the angel of the Lord told St. Joseph in a dream not to fear but to take Mary into his home, flee to Egypt, and then return to Galilee, he placed his hope in God's providence. While Herod tried to employ the prophet's word to preserve his own status (Mt 2:3-8), even through a massacre of infants (2:16), St. Joseph hid the child Jesus under cover of his own obedience, counting as nothing his own reputation, security, and comfort. Through this purity of soul, St. Joseph protected the Father's plan of redemption entrusted to him in the child Jesus.
As we consider the Founder's Monument, then, let us call to mind the examples of St. Joseph and the founders of Notre Dame, who offered their lives in order to welcome what the Lord wished to do through them. And let us seek to live our daily lives renewed in the same hope, filled with the same purity, offering ourselves to the Father in love. May his will also be done in us.
If you'd like to download Notre Dame Campus Pilgrimage: A self-guided tour of Notre Dame's sacred sites, click the button below: