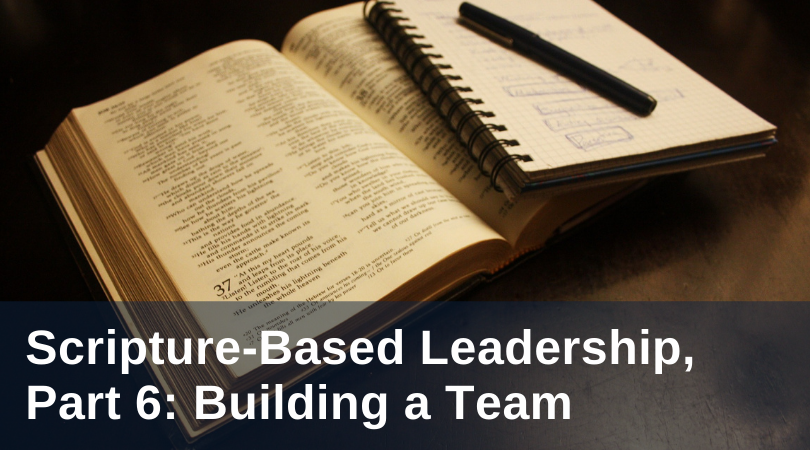 Jesus went up the mountain and summoned those whom he wanted and they came to him. He appointed twelve (whom he also named apostles) that they might be with him and he might send them forth to preach and to have authority to drive out demons. (Mark 3:13–15)
Jesus knew the importance of teamwork. In building a team of twelve Apostles, he made working together to build the Kingdom of God an essential element of the Christian faith, and a delicate but fundamental task of Christian leaders. So too must we foster a sense of belonging, community, and purpose.
Unlike a random collection of people who simply are together in the same place, a team is defined by Peter Northouse and Susan Kogler Hill as an "organizational group composed of members who are interdependent, share common goals, and who must coordinate their activities to accomplish these goals" (Leadership: Theory and Practice, 203). Those ministering in the Church are bound by a common purpose (building God's Kingdom), with unique roles or assignments (e.g., different gifts and talents), and depend on each other's skills, knowledge, and abilities. Such teams work together to achieve their common goal.
Often, the hardest part for any team is to articulate its mission, but the deposit of faith that has been handed down in Tradition and especially in Scripture forms the basis for development. John's Gospel provides a unique perspective on the Church's mission—and how to carry it out as leaders:
When the feast was already half over, Jesus went up into the temple area and began to teach. The Jews were amazed and said, "How does he know scripture without having studied?" Jesus answered them and said, "My teaching is not my own but is from the one who sent me. Whoever chooses to do his will shall know whether my teaching is from God or whether I speak on my own. Whoever speaks on his own seeks his own glory, but whoever seeks the glory of the one who sent him is truthful, and there is no wrong in him." (John 7:14–18)
Once a team's mission is established, its leader is often tasked with multiple tasks requiring time and intentionality, including one or more of the following (see Gary Yukl, Leadership in Organizations):
Providing the guidance, vision, or goal and clarifying these when necessary
Recruiting, cultivating, developing, and supporting new members
Facilitating group decisions
Helping the team learn (e.g., post-mortem/after-action reviews)
Building trust, cohesion, stability, and unity
Constructively resolving conflicts
Representing the team's needs, internally and externally
Building a team requires significant work, but it can also be expressed as an attitude—welcome. The Greek καλέω, kaleo (G2564) means "to call" or summon forth. The Latin voco ("call") originates from it and is truly an invitation to participate in or enjoy the benefits of belonging. Leaders must invite others warmly, welcoming them to participate in the great mission of the Church, not for their own benefit or building up, but for others.
The invitation is a call to actually do something. People want to join something that is exciting and active. Planning, while important and necessary, should always be thoughtful and reflective, but never should overtake the actual implementation. In fact, implementation or execution of a plan should build in the ability to make small course-corrections, changes, or even identify if the plan is not working at all.
Application
Consider how inviting Jesus is, and how you can be welcoming to others. Reflect on the nature of being inviting and welcoming. What does it look like? How does it sound? Being intentional about developing a welcoming attitude can be a strong start to any team building. Have members of your team complete this exercise in advance, then discuss each person's thoughts before the start of a meeting. Consider how your team can exhibit the attitudes you identify together as welcoming.
Like what you read? Submit your email below to have our newest blogs delivered directly to your inbox each week.