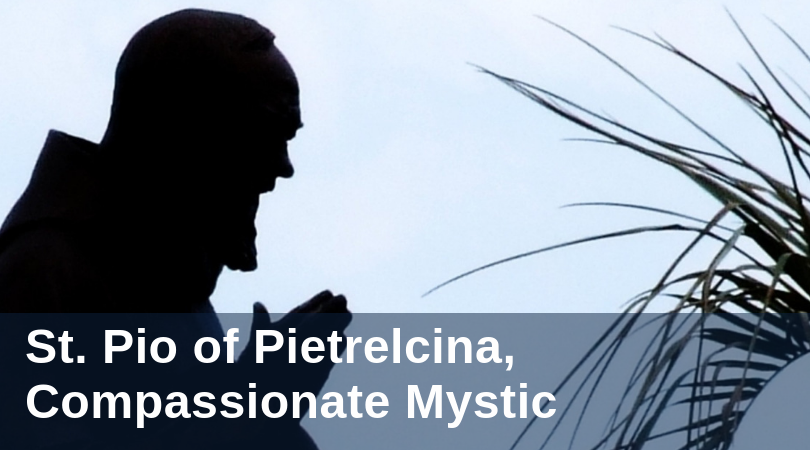 As the Church celebrates the feast day of St. Pio of Pietrelcina today (1887–1968), who is more affectionately known as Padre Pio, Christians everywhere can draw important spiritual lessons from this beloved mystic's balance of compassion and "tough love."
This Capuchin Franciscan's days were filled with much suffering, due in no small part to the gift of the stigmata, or the wounds of Christ on the Cross, which he received in 1918. Other miraculous gifts attributed to him included healing and the reading of souls. He is probably best known for his concern for the sick, which resulted in his legacy of a still-renowned hospital (The Home for the Relief of Suffering), along with his insistence on hope-filled prayer, his passionate love of the Eucharist, and his devoted hearing of Confessions for many hours every day.
A Compassionate Confessor
The story is told within the international network of Padre Pio Prayer Groups that some penitents reported being challenged in their Confessions, or even turned away, when the priest supernaturally knew them to be insincere.
"You could confess anything to him, and he was loving and merciful," said one Prayer Groups leader. "But, if you were there saying, 'Oh, I don't really seek forgiveness,' he would send you out. There was one man to whom he said, 'Get out of here'—because [the man] had no intention of changing. 'You must come to God because you really want God's mercy,' Pio said. That man changed his whole life." Others whom Pio treated that way typically "came back to him sincerely repentant or went to Confession with someone else, sincerely repentant."
According to this same leader, St. Pio instructed other priests not to deny absolution if they felt a Confession was only pro forma, but if his own reading of someone's soul indicated a purpose of deception, he believed the insincerity, revealing a lack of humility and love of God, and called for a "stern" response which the Lord could then use to make the individual "come around."
St. Pio's stance has been seen as one of compassion and obedience to God's truth, which can serve as an example for all called to be Jesus for others by serving God's people, the prayer leader suggested. "It's always nice to feel you're in control, but God is in control." It's tempting to be an arbiter in concrete situations, rather than an instrument of God's unseen bestowal of graces; "but if God is not in control, we're just a bunch of control freaks."
A Saint for 'Ordinary Mystics'
People need to be reminded of the love they can find present in every moment of existence, if they look for it, according to a new book, Becoming an Ordinary Mystic: Spirituality for the Rest of Us, by Father Albert Haase, OFM. He said in a recent interview on Relevant Radio that "mystics are simply people who live with the awareness of God's ardent longing and enthusiastic invitation to come deeper into our lives."
Haase continued, "Most of us who take our faith seriously and are already working on our spiritual lives are probably already mystics, and we aren't even aware of it." Unfortunately, we "tend to go through life as sleepwalkers." Our routines and distractions make us "miss out on all the spiritual fruit God offers us every day."
The story of an extra-ordinary mystic like Padre Pio wakens us from our sleepwalking. Miracles such as the stigmata and deeds such as his occasional sternness in the confessional have a powerful impact in announcing the deep reality of God's presence in this holy man. But qualities like his humility, patience, compassion for the suffering, and dedication to persistent prayer can also inspire holiness for us "ordinary mystics."
St. Padre Pio, pray for us.
Featured Image by gnuckx; public domain.