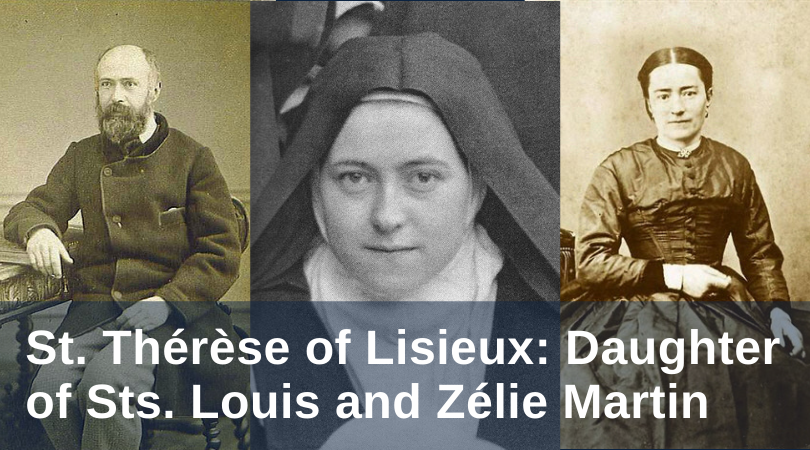 St. Thérèse is affectionately known the world over as "The Little Flower," and her autobiography, Story of a Soul, has taught "millions of souls" (Pius XII) what has become known as her "Little Way." This Little Way has been admired and embraced by so many because it allows the ordinary things of daily life to become the extraordinary deeds of love that can lead to sainthood.
In celebration of her feast day, we contemplate her Little Way from three different angles.
First: Thérèse is also known as "Thérèse of the Child Jesus…" Her sister Pauline described Thérèse's Little Way as a little way of "spiritual childhood." Thérèse often thought of herself as a little child who played with the Child Jesus. Rather than talking about "growing up," or "getting bigger," Thérèse talks about becoming "smaller": "I must stay little and become less and less" (Story of a Soul, 113). In this, the little way of spiritual childhood is incarnational. It fully embraces the Gospel, imitating God "become Little."
A second angle: Could we not also think of "Thérèse of the Child Jesus" as "Thérèse of God the Father"? To think in terms of spiritual childhood is to think of God as Father. Thérèse wrote: God's "love has gone before me from my childhood. . . . I cannot imagine any greater love than that You have given me without any merit of my own" (Story of a Soul, 151). Thinking of herself as a daughter of the Father, she redoubles her understanding of God's incarnational love: "little" because generous, unmerited and merciful.
Finally, the Little Way from the angle of a very little word: "as." Thérèse says she found her vocation in this very little word: "[God] did not ask that we should love our neighbors as ourselves but that we should love them as He loves them." Her vocation was simply to love! And to love others as God loves them. Thérèse went on to do every little thing for her sisters in the Carmel. "Charity is not something that stays shut up in one's heart"; we should show it to "all those who are of the household," in every little way (Story of a Soul, 123).
Thérèse naturally spoke of her spiritual life in familial terms, having experienced Jesus' "as" within her own household. As she said, God's love had gone before her all through her childhood! Her mother, Zélie, once wrote about her desire to become a saint, noting it would "be difficult." In 2015, her parents were canonized together, as spouses. Yet, Sts. Louis and Zélie Martin are often simply known as "the parents of St. Thérèse." But let's change our angle! Let's think of St. Thérèse as the daughter of Sts. Louis and Zélie.
From this angle, we see a child who learned Jesus' "as" from her parents. Louis and Zélie were entirely concerned with the formation of their children as saints. Thus they modelled the "as" of the Gospel at home. Louis and Zélie made the daily ordinary into a sacred extraordinary by loving their children as God loved them. Their home was a "little way"!
The following words conclude Céline Martin's (one of Thérèse's older sisters) account of Zélie, her mother:
In listening to these eulogies, and recalling what I had seen myself, I have often said to myself, that our Thérèse inherited those fundamental dispositions which were to make her: THE APOSTLE OF THE LITTLE WAY." (The Mother of the Little Flower, 100)
As "Apostle of the Little Way," we embrace St. Thérèse as the "child of Sts. Louis and Zélie." The Little Way comes to us from the Martin Household: a hidden, quiet home filled with love and hard work. As we celebrate St. Thérèse this year, may she inspire parents to embrace the "difficult" task of sainthood in the ordinariness of their homes and of their love for their children. May we remember that "littleness" can have a big effect, not only on our own households, but beyond them—maybe even on "millions of souls!"
Learn more about St. Thérèse of Lisieux by joining the McGrath Institute's free online series, "A Season with the Saints."
All images PD-Old-70.