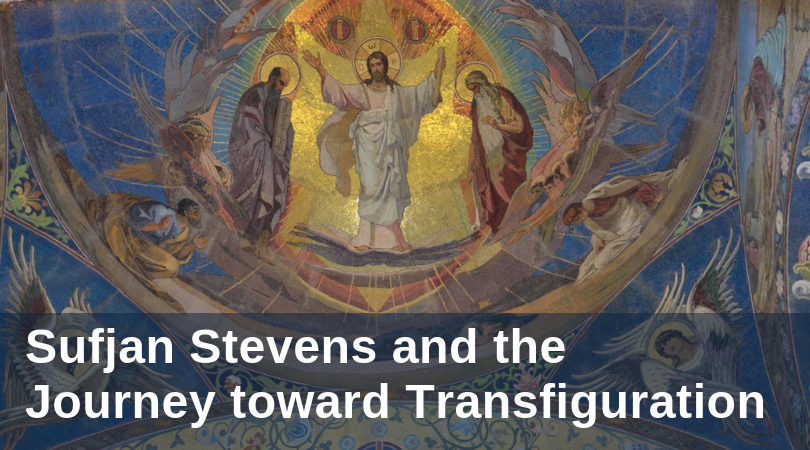 2019 marks the fifteenth anniversary of Sufjan Stevens' remarkable album Seven Swans. Apart from his Christmas albums, the twelve songs on Seven Swans are by far the most overtly Christian in Stevens' catalog: track one, "All the Trees of the Field Will Clap Their Hands," takes its title from Isaiah 55:12; track two, "Abraham," meditates on the patriarch's near-sacrifice of his only beloved son, Isaac. These sometimes scriptural, sometimes literary ("A Good Man is Hard to Find"), always spiritual musical meditations culminate in the final track of the album, "The Transfiguration."
The lyrics recount the mysterious event recorded in the synoptic Gospels (Mt 17:1–8, Mk 9:2–8, Lk 9:28–36), when Jesus took Peter, James, and John up Mount Tabor, where he was transfigured—the glory of his divinity shining through the veil of his humanity.
While one could pen a theological commentary on the unusual nature of a secular musician writing a song on the Transfiguration of Jesus (perhaps focusing on the universality of a desire to be transfigured, to transcend oneself), it is in fact Stevens' musical scoring that provides the greater point of entry for theological meditation. The song begins with the sparseness of Sufjan's voice accompanied only by a banjo. Eventually, his voice is joined by a woman singing simple harmonies, his banjo by two trumpets playing a simple accompaniment figure.
The progression through the song becomes a musical procession of sorts: voices and instruments like bass, drums, and even glockenspiel are added one by one and then caught up in the tune, moving together toward the song's summit. This musical layering creates a shimmering effect, a sonic analogue to the dazzling radiance of the face and clothing of the transfigured Christ. The layers increase in range and complexity, building on one another until the song's climactic ending, when all complexity vanishes, the instruments and voices end in unison—a powerful musical image of the moment when Moses, Elijah, the cloud, and the voice disappear, and only Jesus remains, his divinity hidden in his humanity once again.
In the mystery of the Transfiguration, we receive a glimpse of the glory that awaits all who follow Christ through Passion and Death to Resurrection. In Sufjan Stevens' song, we are carried up the mountain by the addition of voices and instruments, encouraged to take up the melody or countermelody as best we can in imitation of the One who is at the center of it all: the Son of Man, the Son of God. Then, having joined in the procession up the mountain, we confidently place our hope in him who can transfigure us in turn, making us radiant with his own divine light as we allow him to fill us all the more with his divine life.
Photo credit: yumievriwan via flickr; CC-BY-NC-ND 2.0.