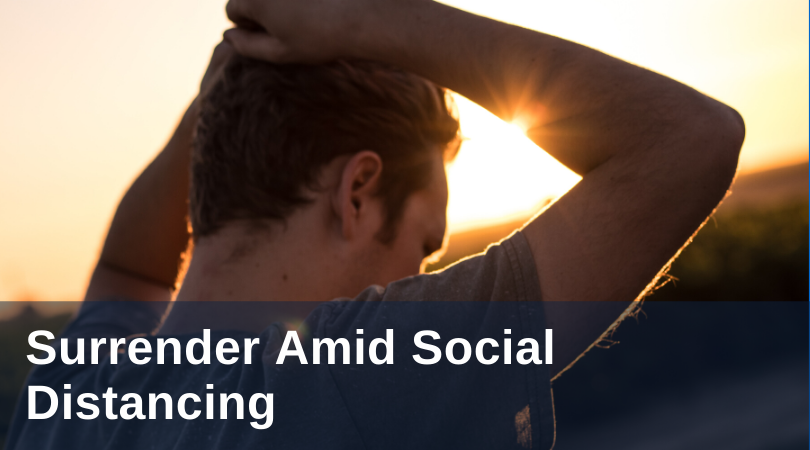 As a single Catholic young adult, I've found these past several weeks challenging. Before social distancing, I was anchored by my job and colleagues, and friends and family I visited frequently. Together with regular reception of the sacraments, I found a sense of stability in these practices.
As the pandemic has stretched on and the necessity of social distancing has become even clearer, I've greatly missed that stability. While the significant sacrifices of others have made the change in my own routine seem pithy, the resulting changes have still brought discomfort. Feelings of loneliness have begun to take the place of moments and relationships where I shared and received empathy, joy, and belonging. I'm grateful to connect with people through Zoom chats and phone calls, but those don't replace what I had before.
A few weeks into social distancing, I became drained and frustrated. I slowly realized I had been expending a lot of energy thinking and planning for 'getting back to normal.' My own expectation was that this would happen sooner rather than later. Though it became clear that this was not possible, my planning and longing for it continued, and I became even more drained and frustrated.
On Good Friday, a reflection from Fr. Raniero Cantalamessa (preacher to the Papal Household) stopped me in my tracks.
When the Israelites were bitten by poisonous serpents in the desert, God commanded Moses to lift up a serpent of bronze on a pole, and whoever looked at it would not die. We too at this moment have been bitten by an invisible, poisonous "serpent." Let us gaze upon the one who was "lifted up" for us on the Cross. Let us adore him on behalf of ourselves and of the whole human race. The one who looks on him with faith does not die. And if that person dies, it will be to enter eternal life.
The image of "invisible, poisonous 'serpent'" caught my attention. While Fr. Cantalamessa was invoking it in reference to COVID-19, it applied to me in a different way. I, too, had been 'bitten' by something that had slithered stealthily into my heart.
My own efforts—the ruminations, planning, and longing for my old routines—had initially appeared harmless. Yet they had morphed into something sinister, and had indeed bitten me. My desire to control and to enact my own timetable was the poison, and I needed an antidote.
I found it in St. Augustine's famous line from his Confessions: "You have made us for yourself, O Lord, and our heart is restless until it rests in you" (I, 1). My loneliness and frustration are symptoms of what St. Augustine knew to be true: nothing this side of heaven can ever fully satisfy. I was looking elsewhere for what God wanted to fill himself.
"God does this with us sometimes," Fr. Cantalamessa continued in his reflection. "He disrupts our projects and our calm to save us from the abyss we don't see." The reality of this pandemic and my struggles, although both certainly not willed by God, have begun to wake me from the grogginess of my complacency and satisfaction in my own plans, and I am realizing that I need to let him show me the way now more than ever.
In his article The Future of Today When Tomorrow Is Uncertain, David Cloutier reflects on the virtue of hope: "Hope enters in precisely where our purposes seem to be failing. Christian hope is finally in the vindication of God's promises, even, and especially, when the vindication seems improbable or impossible." I still long for connection, but I'm recalibrating my expectations. Now, I'm filling my days with practices that are realistic: scheduling virtual hangouts, resting, reading, exercising, watching things that challenge my mind. And I'm realizing that the joy in Christ that I experienced before can be found here, too.
Each of us is called to respond in different ways to the challenges we face, most of us through staying home. Yet even there, we can continue exploring who God is calling us to be—people of hope and joy, who trust that Christ has already trampled the serpent, and that life, not death, will have the last word.
Like what you read? Submit your email below to have our newest blogs delivered directly to your inbox each week.
Featured image by Jeremy Perkins via Unsplash