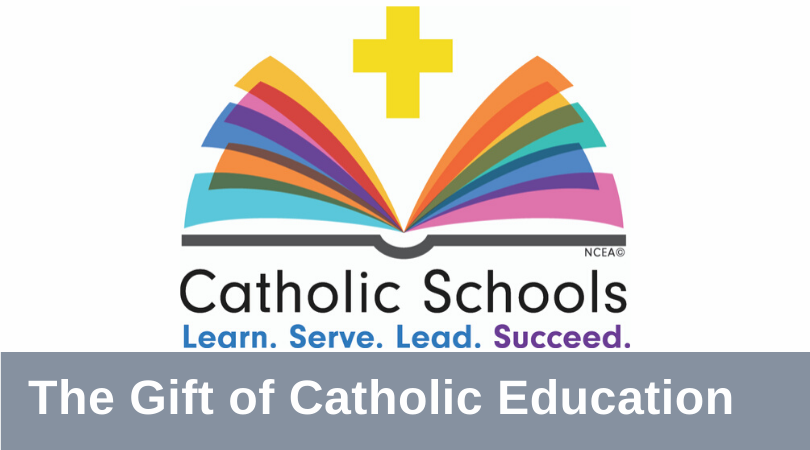 Although many people experience a "let down" in January after the holidays are over, students, parents, teachers, and others associated with Catholic schools have an opportunity to continue the festivity through Catholic Schools Week (CSW). Special liturgies, essay contests, community receptions, "dress-down" days, and other thematically-linked activities celebrate the gift of Catholic education.
At the Catholic elementary school I attended, it was a CSW tradition for the students to write their parents a thank you note, expressing gratitude for their Catholic education. Our notes were sincere and heartfelt, and sometimes humorous or ironic. For example, the note I wrote in second grade explained how much I was learning from my teachers, but in its five short sentences, it had six misspelled words!
As time went by, I finally learned to spell. I also learned to value my Catholic education more and more. As I met other people who were uncertain about the meaning and purpose of their lives, I realized that I was not. My Catholic education had transformed my life by offering me an opportunity to fully consider and then intentionally assent to belief in the Catholic faith, which in turn equipped me to navigate my life with clarity about its purpose and hold a keen sense of my identity.
The many aspects of schools—the curriculum, community, and more—provide an incomparable mechanism for the transmission of all types of beliefs. Catholic schools, at least in the ideal sense, are powerful means for engaging with the Catholic faith. They do this by providing long-term, consistent exposure to the foundational teachings of the Catholic faith that address every aspect of human life—presenting the truths of the Catholic faith in religion classes as well as through an authentic integration across the academic subject areas, celebrating these truths in the liturgy, and reinforcing them by providing a community where witnesses model the love of Christ. In short, a Catholic education does not merely propose or forcefully indoctrinate specific beliefs; rather, it communicates them and organically offers substantial and continued evidence that they are good and beautiful and true.
In middle school, I remember writing a CSW thank you note that specifically thanked my dad for spending his hard-earned money to send me to a Catholic school. I had started babysitting and with it gained an awareness of what it took to "make a buck." I couldn't begin to fathom what it cost my parents to send eight children to a Catholic school, but I knew it was why we wore "hand-me-downs" and rarely went on vacations or out to eat. After he read my note, my dad explained that I was right to recognize the investment, since he actually paid for our education twice—once for a public education we did not use (through his taxes) and again for Catholic school tuition. He did this because he wanted us to learn about our faith and believed it was the best gift he could give his children.
As I've made choices for my own child—especially as I've met other Catholics whose faith is strong but did not attend Catholic schools, and other Catholic school graduates who no longer believe—I've reflected on my dad's commitment to Catholic education. I recognize that his upbringing as the oldest son of immigrants undoubtedly influenced his choice for Catholic education. For new Americans, education was (and still is) a powerful contributor to upward mobility; many justifiably choose Catholic schools for this reason. But I am certain my father's Irish heritage was even more influential in his choice: keenly aware that his ancestors had been prohibited by law from educating their children in the Catholic faith, he realized that both his freedom and his ability to send his children to a Catholic school were gifts to be cherished. I feel the same way.
So this Catholic Schools Week, I urge all parents to communicate with their children about the importance of education in the faith. Whether this education takes place in a Catholic school, through parish catechesis, or by other means, such a conversation will offer a crucial, affirming lesson to the child by demonstrating that his or her parent values their Catholic faith and has made an intentional choice to promote its transmission. I also challenge all Catholic educators to be worthy of the parental trust placed upon them by providing the best education and witness in the faith they are able. Finally, I invite the Church to pray for the continued success and growth of Catholic schools. May God continue to bless their work!
Featured image courtesy of the National Catholic Education Association