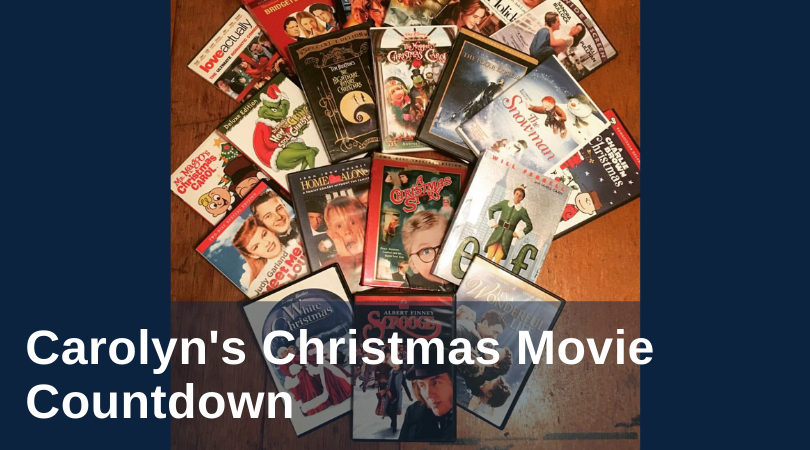 I was recently invited to be a guest on Church Life Today, the McGrath Institute's radio program and podcast, where I chatted with my colleague and show host Lenny DeLorenzo about Advent music and Christmas movies. Here is my personal list (emphasis on personal!) of 25 films that I watch nearly every holiday season. For the most part, I've ranked them in an order that contains a sort of 'progressive solemnity'—moving from vaguely holiday-adjacent movies toward those that delve deeply into 'the meaning of Christmas.'
In reflecting on this list since the interview, I readily admit that people may find it deficient. It doesn't include any films released after 2006, and it also features nearly all-white casts. While its lack of diversity is on the one hand a reflection of my cultural identity and upbringing in white, middle-class, Midwestern America, it's also a reflection of the very real and decades-long failure of major movie studios to celebrate diversity through the films they produce and the filmmakers who produce them. So, this year, I'm intentionally supplementing my perennial go-tos with new-to-me holiday movies featuring people and communities of color, for example, the update of The Preacher's Wife (1996), Last Holiday (2006), Nothing Like the Holidays (2008), and this year's Jingle Jangle, which is already being hailed by many as a new Christmas classic.
That said, the wonderful thing about Christmas movies is that everyone can have their favorite, and it doesn't have to be a cause for friction when those favorites differ. It can just be a happy excuse to watch a great movie with friends and family. So here goes.
National Lampoon's Christmas Vacation (1989)
Most guys I know love this movie, including my four brothers. Although I've never been a huge fan (certain scenes always make me super uncomfortable!), it still has its moments. At its heart, this is a movie about a dad who wants to give his family a "fun, old-fashioned family Christmas." He gets a little lost in the materialism of the season, but ultimately comes to value what's right in front of him.
Die Hard (1988)
People will go ten rounds on whether or not Die Hard is a Christmas movie. Technically, of course, it's not. The plot unfolds at a Christmas party, but that's about it. But it's perfect for anyone who prefers something edgier than Frosty the Snowman for their holiday viewing, and what's not to love? Bruce Willis? Love. Alan Rickman? LOVE. Reginald velJohnson as Sergeant Al Powell? Yippee ki yay.
Bridget Jones's Diary (2001)
Another slightly edgier inclusion, Bridget Jones's Diary is a comedic staple for singletons like myself who have to endure the ~joys~ of navigating the holiday season solo year after year. We see Bridget's life unfold over one year, beginning and ending at Christmas, and we're reminded of how much life can change in that time, how much a person can grow. If nothing else, we can take comfort in the fact that we'll never have our derrieres broadcast on television as we slide down a firepole whilst reporting the news. There's always that.
Little Women (1994)
Somehow Gillian Armstrong's version of Little Women

(1994) feels the most Christmas-y to me. That said,

Greta Gerwig's 2019 update

is stunning, and the 1933 version starring Katharine Hepburn as Jo March is worth seeing too. In offering up the absence of their father, going without presents, and sharing their food with a poor family in their community, the March sisters learn perseverance and generosity in their celebration of Christmas.
Tim Burton's The Nightmare Before Christmas (1993)
While many people watch this film at Halloween, really, it's a Christmas movie—one that totally upends holiday movie conventions. Many Christmas specials involve a character who is trying to 'save Christmas'; this film's protagonist nearly ruins Christmas by trying to make it his own. Unlike the Grinch, who just wants to eliminate Christmas altogether, Jack Skellington tries to make Christmas fit his own impressions of what it ought to be. The lesson here is to take our cue from Christmas itself and conform ourselves to its mysteries and joys, not the other way around.
The Chronicles of Narnia: The Lion, The Witch, and the Wardrobe (2005)
We know right away that the White Witch is a villainess because she makes sure that it's "always winter and never Christmas" in Narnia, and the arrival of Christmas signals a major turning point in the plot. When Father Christmas finally comes back to Narnia, he presents Peter, Susan, and Lucy Pevensie with gifts that will, with Aslan's help of course, enable them to defeat the White Witch and fulfill the prophecy of love stronger than death.
While You Were Sleeping (1995)
Unfolding over the Christmas season, this romantic comedy provides a poignant glimpse of what the holidays are like for someone who doesn't have a family. The ensemble cast creates a vivid picture of a flesh-and-blood (Catholic!) family, equally hilarious and annoying and loving as they welcome our heroine Sandra Bullock into their fold.
Harry Potter and the Sorcerer's Stone (2001)
Okay, so this isn't a Christmas movie, but it somehow feels like one to me, owing undoubtedly to its delightful Christmas scene, complete with hand-knitted Weasley sweaters and a mysterious invisibility cloak. Happy Christmas, Harry. Happy Christmas, Ron.
Meet Me in St. Louis (1944)
Another "not-quite Christmas movie," this iconic musical starring Judy Garland follows a family over one year, culminating in Garland's peerless rendition of Have Yourself a Merry Little Christmas

. The song's original lyrics identify Christmas as a benchmark for time's passage: "Next year all our troubles will be out of sight; next year all our troubles will be miles away." In the meantime, "Have yourself a merry little Christmas now." Be sure you have Kleenex handy.
The Holiday (2006)
We're moving into films that are more explicitly Christmas-centric, as is this rom-com, where Christmas is a catalyst for self-discovery—for letting go of relationships gone bad and opening oneself up to new possibilities, like the endearing friendship that blossoms between Iris (Kate Winslet) and Arthur (Eli Wallach).
Miracle on 34th Street (1947)
While I prefer the 1947 version because I adore Maureen O'Hara, the 1994 update

with Richard Attenborough and Mara Wilson is also delightful. The film is about suspending cynicism and skepticism in order to encounter the authenticity of another person—it's about learning to have faith in other people.
Love, Actually (2003)
For my money,

the very beginning of this movie

is what makes it so great. Hugh Grant's voiceover provides an epigram for the entire film, which celebrates love in myriad forms. Though some subplots are definitely better than others, it's a worthwhile reminder that, "if you look for it, . . . love, actually, is all around."
The Polar Express (2004)
Opinions vary on whether or not The Polar Express

is a "good" movie. People criticize the computer animation or the liberties taken with the source material. My appreciation for this film has grown over the years. I love Hero Girl (we never learn her name) and her desire to include Billy, as well as Hero Boy and his struggle to believe. For the Christian viewer, this film is an invitation to ask ourselves what we really believe.
The Muppet Christmas Carol (1992)
There are many film adaptations of Charles Dickens' beloved Christmas ghost story, but this is one of the best. From the delightful music to Michael Caine's utterly sincere performance opposite his Muppet co-stars, this version of Scrooge's story is one that families can enjoy together for many Christmases Yet to Come.
How the Grinch Stole Christmas (1966)
Dr. Seuss' classic has had several reboots, but the original animated special can't be beat. Between the iconic songs, including Thurl Ravenscroft's sonorous and sinister performance of "You're a Mean One, Mr. Grinch"

and the luminous

Who Song "Welcome, Christmas"

, the narration by

Boris Karloff

, and the whimsical animation directed by Chuck Jones, this version tells of Seuss' tale with direct simplicity, helping hearts grow three sizes in the process.
Creature Comforts: Merry Christmas, Everybody! (2005)
Many Americans grew up watching Rankin and Bass' stop-motion specials like Rudolph the Red-Nosed Reindeer

(1964). For whatever reason, I didn't. Still, I love this stop-motion Christmas gem from the geniuses behind

Wallace and Gromit

.

Creature Comforts

was an unscripted British series in which producers interviewed real-life Brits about various topics and then animated their responses using animal characters. In this Christmas special, they asked people about the carol

The 12 Days of Christmas

, with hilarious results. If you love

The Great British Baking Show

, you'll appreciate

Creature Comforts

.
Mr. Magoo's Christmas Carol (1962)
More adaptations of A Christmas Carol

! This animated version features fantastic songs and provides

poignant nuances

to Dickens' classic.

Mickey's Christmas Carol

(1983) is another lovely treatment, worth watching with little ones undoubtedly more familiar with Disney's famous characters than with a visually impaired buffoon from the 1960s (though it's worth introducing them to Magoo as well!).
The Snowman (1982)
This Academy Award-winning animated short film tells its heart-rending story almost entirely through instrumental music. A young boy builds a snowman who magically comes to life, and adventure follows. While many Christmas films aimed at young audiences are marked by sensory overload, The Snowman

provides an understated yet unforgettable viewing experience.
A Charlie Brown Christmas (1965)
This program is easily one of the finest half-hours ever produced for television, grappling with issues like society's overemphasis on materialism, and the fact that many people find the holidays emotionally burdensome. Stunningly, it unabashedly offers the Gospel as the antidote to these ills. For 49 seconds, Linus proclaims Luke's account of the apparition to the shepherds, then quietly concludes, "That's what Christmas is all about, Charlie Brown." Indeed.
Home Alone (1990)
This Christmas comedy provides a sort of kid-friendly George Bailey-esque experience for the young Kevin McAllister: what would life be like if one's family just disappeared? Through various antics and interactions, we see Kevin come to realize that loving his family (and protecting their home!) is hard work, but it's always worthwhile.
A Christmas Story (1983)
This 1980s film telling a 1940s story has acquired a coveted place in holiday pop culture. Its catch phrases ("You'll shoot your eye out!"), characters (Ralphie, the Old Man, and the Bumpus Hounds), and even costumes ("He looks like a pink nightmare!") have become seared in the American imagination, and its tale of a Christmas dream come true continues to resonate in the hearts of children of all ages who have ever set their hearts on that one perfect gift.
Elf (2003)
In a culture often marked by crassness and crudity, Elf stands as a shining beacon celebrating innocence and purity of heart. Through his childlike exuberance, his love of everyone around him, and his unapologetic enthusiasm for all things Christmas, Buddy the Elf restores joy and wonder in everyone he meets, breaks through the hardened surfaces of his father's jaded heart, and yes, even manages to save Christmas.
White Christmas (1954)
This movie musical boasts show-stopping songs and jaw-dropping dances. With its 'solve any problem by putting on a show' trope, the plot may be a little thin, and a modern viewer may rightly take issue with some dated cultural references, but overall, White Christmas is a classic worth watching every year.
It's a Wonderful Life (1946)
This movie actually lost money upon its original release, but perhaps its long-term success is due to the enduring power of its message and the power of its star's performances. By far the most Catholic film on this list, It's a Wonderful Life is a remarkable meditation on how one's life unfolds under the watchful eye of divine providence, how no life is ever meaningless, and, of course, how "no man is a failure who has friends."
Scrooge (1970)
These last two films are essentially tied for first in my book, but Scrooge edges ahead, as it is, for me, the ultimate adaptation of A Christmas Carol. The actors' performances are top-notch: a then-34-year-old Albert Finney plays both old and young Scrooge, and Sir Alec Guinness—Obi Wan Kenobi himself—starts Scrooge on his supernatural journey as the ghost of Jacob Marley. Leslie Bricusse's expertly-crafted songs and screenplay are filled with wry humor, dry wit, dark and delicious irony, and utter pathos that never fails to move me to joyful, hope-filled tears.
There's a reason holiday movies are such an important part of popular culture: they are stories that help us get at the heart of the story, the story of the Incarnation, the story of Christmas itself. These films can help us enter more deeply into our celebrations of Christmas, and many of them can even help us "honour Christmas in [our hearts], and keep it there all the year." Happy viewing, and Happy Holidays!
To hear the full conversation between Carolyn and Lenny on our Church Life Today podcast, click the button below:
Featured image courtesy of the author.