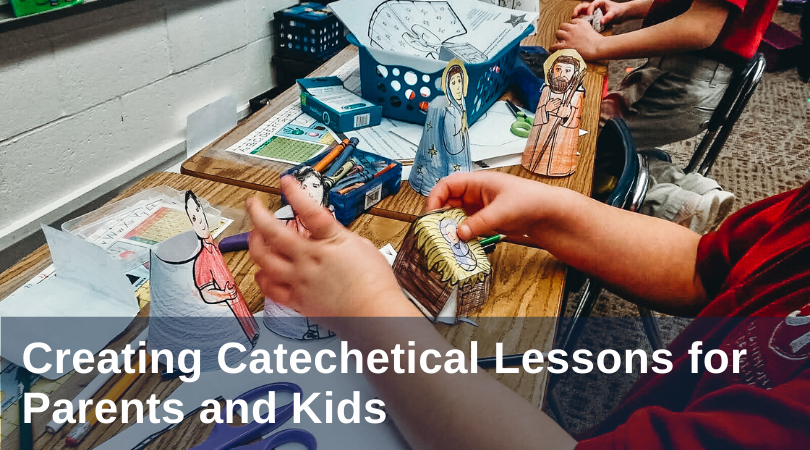 "I desperately need guidance as a catechist. I'm being told by my DRE . . . to 'send home lessons.'
I'm not a professional educator. I don't have back up or tools or tech support. Just a mandate to do it."
—Recent comment from a blog reader
Planning lessons as a catechist can be challenging. Planning lessons to send home for parents to complete with their children can be even more difficult! Whether you find yourself as a catechist in a religious education program that is dividing its time between classroom instruction on the church campus and family instruction at home or you're experiencing a global pandemic and suddenly need to prepare lessons to send home for several weeks, here are some helpful tips to keep in mind.
Keep it simple
Even the most capable parents often feel overwhelmed when tasked with eLearning or executing lessons from home. Rather than burdening families with complex tasks to complete, use this opportunity to help the family grow in faith together. Keep it simple and remember: our ultimate goal is to help this family get to heaven together.
Gather your resources and choose a topic
Are you creating a lesson using a textbook or diocesan curriculum? If not, consider using Scripture: the Sunday readings can help you move through helpful themes in the liturgical year. Gather your materials and, as you read through them, decide what emerges as the most essential theme that you would hope to cover. Most often, and especially in a setting where you are only gathering once a week, focusing on one simple concept for the lesson is best. The students will remember more if you try to cover less!
Consider coordinating with other catechists
If your parish and diocesan curriculum allows it, consider collaborating with other catechists to develop lesson plans. Rather than creating plans for each grade level, catechists can work together to develop plans for students in grades K–2, 3–5, and 6–8. This will also help parents who have multiple children; at most they would have three lessons to complete within their family. (That's still a lot, but it's better than four or five!)
You can also work with other catechists and the DRE to coordinate topics. Some dioceses, like the Archdiocese of Galveston-Houston, already do this on a large scale—all grade levels are learning about the same topic on a given week but doing so at a depth appropriate for their age and developmental level. Simplifying topics in this way can make it easier for parents to teach multiple lessons at home each week.
Always remember to pray
Pray as you consider how to engage your students in the topic, pray for your students throughout the week, and always include prayer in your lesson. Remember, there are six fundamental tasks of catechesis—promoting knowledge of the faith is only one of them!
When adding an opportunity for prayer to the lesson, make it relevant to the topic of the lesson. Consider how you'd like to invite the family to break open the topic through prayer. For example, is there a particular line from Scripture or a piece of artwork that might help break open their imaginations? What reflection questions can foster faith-sharing among the family and also deepen their understanding of the lesson's main themes?
Begin with a clear and active objective
As you begin planning the lesson, stop to consider your goal. What do you hope the students will be able to accomplish after participating in this lesson? Consider using Bloom's Taxonomy to help you think about the level of understanding and application you hope the students will achieve, and use creative and active verbs. For example: "Students will be able to illustrate the seven days of Creation" is much more interesting and active than "Students will be able to understand the Creation story."
Provide clear instructions for a simple activity
What content (e.g., paragraphs from the textbook, brief Scripture passage, short YouTube video, a mini video lecture you create and share, etc.) will allow you to most effectively share information with the family? Make sure to keep the content age-appropriate, or provide clear instructions for how you'd like parents to explain the concept to their children.
Return to your objective to consider what activity might help to reinforce the concept. The active verb you used in the objective will come in handy here! Students can draw, write, create, describe, compare and contrast, and more. Keep the activity simple and manageable, but be creative!
Ask for feedback
Some religious education programs require that assessments be completed and turned in; others do not. Even if your program does not require families to turn in their work, ask parents to send you a picture or video (if in compliance with your diocesan safe environment standards) of their child's completed activity. This type of communication provides a great opportunity for contact with the parents (and for you to encourage them!) and also allows you to see if and how the families are engaging the lessons.
You can also ask parents for honest feedback about the lesson. Were the directions clear? Was there enough information? Was your child able to understand and engage the topic? Don't let constructive feedback bother you too much. We're all learning how to better engage families in their children's faith formation! Use parents' feedback to continue to adapt and improve future lessons.
What tips or questions do you have about creating lessons to send home for families? We'd love to hear from you in the comments!
Featured image: Second-graders from St. Anthony de Padua school create Nativity scenes from a free digital resource offered by the McGrath Institute (December 2019).
Like what you read? Submit your email below to have our newest blogs delivered directly to your inbox each week.