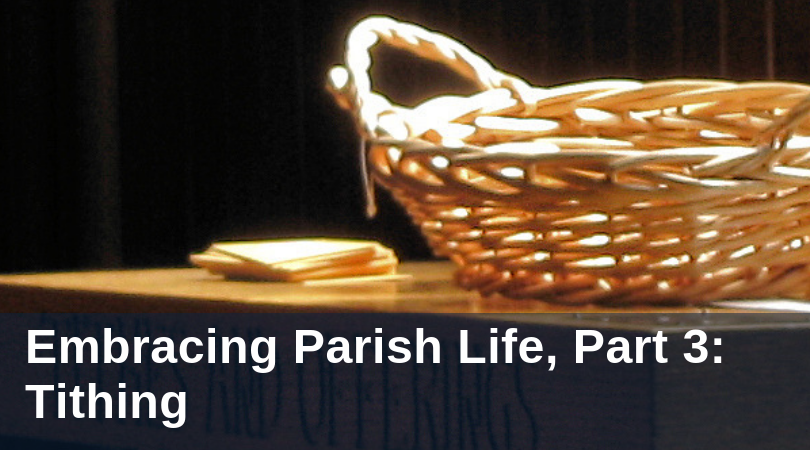 I love budgeting. It might be a slight obsession. My friends and co-workers can attest to my willingness to tell anyone and everyone how wonderful and important it is to budget.
The first expense category on our monthly budget is "Giving," which includes two separate items: giving to our local parish and giving to a charity or cause (we choose something different each month). I share this not to gloat but to share our strategy; if giving wasn't the first thing on our budget, we'd easily find other ways to spend our money.
In Deuteronomy, God tells the Israelites to give the "first fruits" of the harvest (Dt 26:2), or, in other words, to offer some of their crops to God before they take any for themselves. In God's infinite wisdom, he knew that I could make room in my budget to support my parish and other worthwhile causes if I set that money aside before considering anything else.
As you think about making room in your monthly budget to financially support your parish, here are some practical considerations:
How much should I give?
Technically "tithing" refers to giving 10% of your income. Often, if people are able to give 10%, they aim to give 5–8% to their parish and 2–5% to other charities.
Ultimately, how much you give is between you and God. The best advice I was given was to "give until you're not making excuses anymore." (See the widow's mite in Mk 12:41–44 and Lk 21:1–4) Only you (and your spouse, if you're married) can answer this question.
Once you decide on the amount you're able to give, you can try to hold yourself accountable to giving your "first fruits" by giving your full monthly amount on the first Sunday of the month or, if your parish offers it, signing up for automatic online giving.
If you're not able to give as much as you'd like, keep working toward your goal and consider giving to your parish in other ways, like sharing your time to support parish ministries and events.
Where exactly does the money go?
Generally, donations to the parish go to some variation of the following: salaries and benefits for the priests and parish employees, general office supplies and expenses, ministries and other parish programs, liturgical supplies and expenses, charitable causes, the local arch/diocese and the universal Church, Catholic schools (if applicable), household expenses for the rectory and/or convent, facilities maintenance and repair, utilities, and other miscellaneous costs.
If you're curious about your parish's financial information, you can stop by the parish office and ask them for a copy of the previous year's financial report. They likely publish it in their bulletin each year and possibly keep a digital copy on their website.
Why give money to my parish?
The parish is a place that allows us to encounter Christ through the sacraments and that forms and educates us in our Catholic faith. Even though I might not always take advantage of all the opportunities my parish offers, I still try to do my part to support the life of my local church. Why? Because I'm grateful for the ways that God has moved in my life, and I can't imagine a better way to use my income than to support the Body of Christ.
Editorial Note: This is the second post in a four-part series which originally appeared on Church Life Journal. If you're a young Catholic discerning how to live your faith as an adult, or if you're going through a time of transitions or new beginnings in your life, subscribe below so you don't miss out on the rest of this series!
To learn more, see also: Embracing Parish Life, Part 1: Choosing a Parish and Embracing Parish Life, Part 2: Registering.
Featured Image by UrbanPerspectiV; CC-BY-NC-ND-2.0.