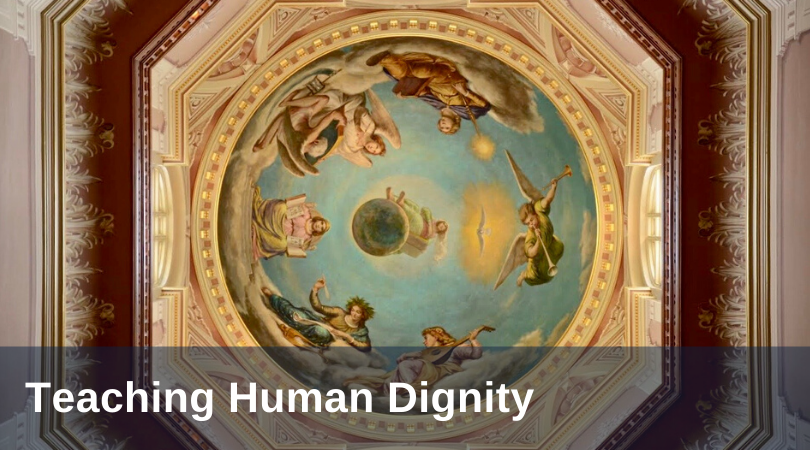 Last year, the Notre Dame Office of Life and Human Dignity launched a new offering, Teaching Human Dignity. The Teaching Human Dignity series is a one-of-a-kind collection of units/lesson plans, curriculum resources, and expert guides that empowers teachers to incorporate life and human dignity issues into existing curriculum. These resources are meant to be used in traditional academic disciplines, such that students are formed to recognize the worth of the human person while discussing poetry, analyzing historical events, or learning about biology.
Designed by university faculty, these resources take seriously the complexity of life and dignity issues in the modern world. They develop a consistent, unified approach that upholds the inviolable worth of every human being. Resources are geared toward those in secondary education, but can be adapted for youth groups. All resources are available online free of charge.
In light of the current shift to distance learning, there are a number of resources that can easily be used in a virtual setting with minimal adjustments necessary. Students can access and watch one of the talking PowerPoints listed under curriculum resources. Current offerings include:
The Death Penalty: An Affront to Life
The Price of Our Humanity: Disability Selective Abortion and Cost-Effectiveness
Are There Too Many People in the World? What Economics Can Tell Us
There is also a four-part dynamic lecture by Dr. Kristin Collier on the placenta and fetomaternal microchimerism. This can be a great addition to a health class, included in a biology course, or supplement an anatomy lesson. Students have the opportunity to learn about the unique aspects of the placenta, maternal adaptations during pregnancy, and the migration of cells between mother and child which gives scientific evidence that we are not as autonomous as we might have thought.
With the Teaching Human Dignity series, students and teachers alike are encouraged to view the world through a particular lens that upholds the worth of each individual person. Instead of separating academic pursuits from life and human dignity, our resources strive to bring about a worldview that students can use in all of their academic disciplines and can be carried forward to all aspects of their lives.
To access the Office of Life and Human Dignity's resources, click the button below.