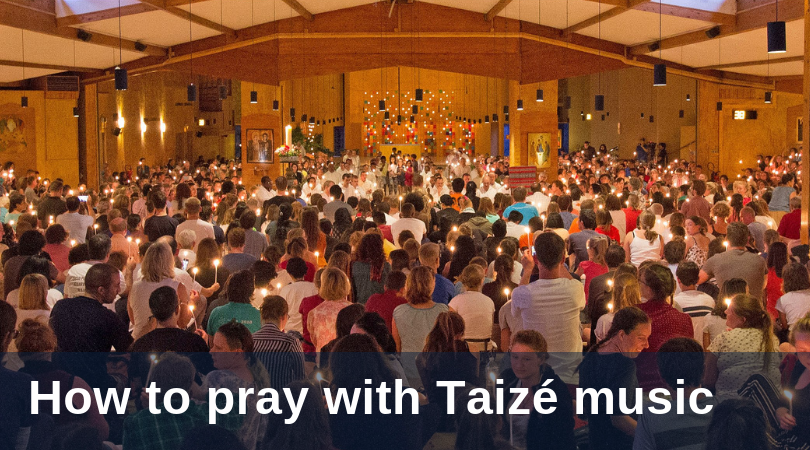 Taizé (pronounced: tay-zay) is a prayerful form of music known for its simple, yet rich and meditative character. Taizé music often takes the structure of an ostinato (a simple melody that repeats over and over) and is meant to serve as a kind of musical centering prayer. Because Taizé music itself is intentionally simple, it provides a great way to move our prayer from the head to the heart. It's worth noting that much of what follows is applicable to other forms of prayerful music like chant or worship music. However, Taizé is a great starter example because it is easy to learn and designed especially for active prayer.
The origins of
Taizé
Taizé music comes from the Taizé Community, a French ecumenical religious community founded in 1940. The hallmark ministries of this community are ecumenical prayer and hospitality, and music plays a significant role in both.
"Look, you tell me, I am singing. Yes indeed, you are singing; you are singing clearly, I can hear you. But make sure that your life does not contradict your words. Sing with your voices, your hearts, your lips and your lives." - St. Augustine
Why you might pray with Taizé music
There are many benefits to praying with Taizé music. First, in the same way that a sport moves an athlete to focus on the game and not the outside world, the meditative music of Taizé can help us to leave behind our many distractions and concentrate on the Lord. If you are particularly prone to intellectualize prayer, or if you desire to pray more intentionally from the heart, the music of Taizé could be of great help.
Second, the music of Taizé is catchy—in a good way! Like any good song, you may find yourself humming a refrain after praying with this music. Unlike secular music, the songs of Taizé are aimed at praising God and drawing us deeper into relationship with God. If you want your prayer to echo throughout your day, consider praying with Taizé music.
Finally, Taizé music can help us establish a rhythm of prayer. The music itself structures time for us while the lyrics give us the words to pray. If making time for prayer or finding words to speak from the heart has been a struggle, the music of Taizé might be a helpful aid.
How to pray with Taizé music
Taizé music is helpful for both personal and communal prayer. Below are some things to keep in mind as you incorporate Taizé music into your prayer.
Where to find Taizé music
Having Taizé music is essential for this prayer practice. Taizé albums are available on streaming services like YouTube and Spotify, or you can buy CDs of the music on the Taizé website. If you have musicians in your community, the songs are simple enough that musicians can often learn them by ear, or the Taizé website also has resources for learning the music.
Praying with Taizé alone
Praying with Taizé as an individual can take whatever form you wish. The music can either function as an aid to your prayer or the lyrics themselves can become your prayer. If you are a musician, you can also pray the music by playing it. However you choose to pray with this music, make your song selections ahead of time (like in a playlist or well-organized songbook) so that your prayer is not disrupted constantly by having to search for and queue up the next piece.
Praying with Taizé in community
Praying with Taizé music in community is also a simple and fruitful practice, but it takes a little more effort to prepare and organize. Some things to keep in mind as you set up Taizé prayer in common:
Prepare the space
The prayer space is important for any form of communal prayer. If you have access to a church or chapel, consider praying at night, by candlelight or as part of Eucharistic Adoration. If you do not have a dedicated prayer space, consider creating one with a crucifix, an open Bible, some candles, icons, flowers or other objects that will help to set the place apart from its normal use.
Curate the music
Taizé music is best prayed live. If you have musicians in your community willing to learn the music, invite them to lead your prayer. Having music leaders will allow the rest of the community to join the prayer effortlessly and without hesitation. If live music is not an option, do your best to ensure the sound quality of the music. Set up good speakers and test them beforehand. You want the sound to fill the space without overwhelming it. Create a playlist ahead of time and practice shifting between songs. Fumbling with technology will quickly break the contemplative spirit of the group.
Allow for silence
Whether you have live or recorded music, make sure to leave space for silence. Silence is essential to all prayer forms, but it is especially important when praying with music. People will need silence to speak their own words to God and to listen for God in return.
Download the complete Prayer Enrichment Guidebook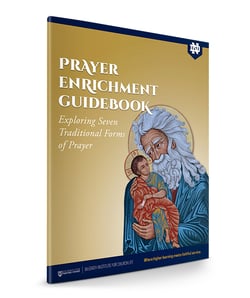 This article is the fifth installment of our seven-week Prayer Enrichment Series which comes directly from our free Prayer Enrichment Guidebook.
The Prayer Enrichment Guidebook introduces seven traditional styles of Catholic prayer, including lectio divina, the Examen and centering prayer.
The entry for each prayer practice introduced in this guidebook contains:
- A brief overview of the prayer practice
- Its origins
- Why one might practice it
- How one can practice it
This Prayer Enrichment Guidebook is an aid for all Christians to deepen their relationship with the Lord through new forms of prayer. It is an ideal supplement for Catholic teachers, catechists, ministers and anyone who seeks to encounter God in a new way.
Photo credit: Christian Pulfrich, Wikimedia Commons