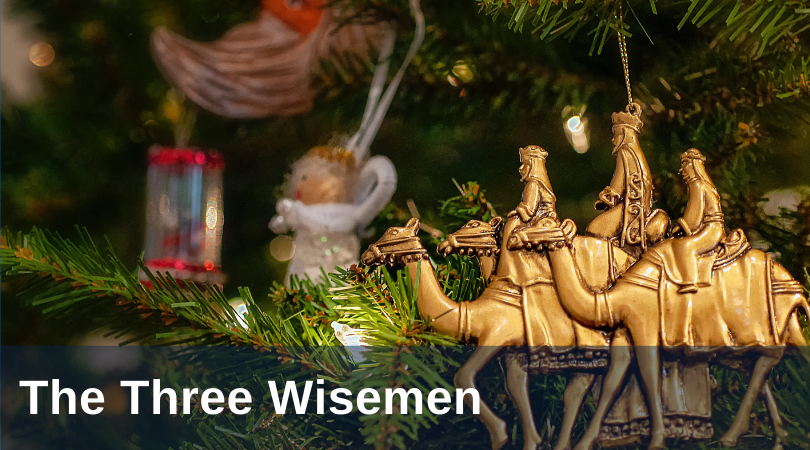 Some of the most splendid preaching in the Catholic tradition has occurred during the seasons of Advent and Christmas. Here we provided excerpts from the seasonal sermons of three exceptional preachers and Christian witnesses: St. John Newman, Fr. Alfred Delp, and St. Oscar Romero.
These sermons were the subject of the Church Life Today episode entitled "The Three Wisemen."
Worship, A Preparation for Christ's Coming by St. John Henry Newman (Advent)
"Year after year, as it passes, brings us the same warnings again and again, and none perhaps more impressive than those with which it comes to us at this season. The very frost and cold, rain and gloom, which now befall us, forbode the last dreary days of the world, and in religious hearts raise the thought of them. The year is worn out; spring, summer, autumn, each in turn, have brought their gifts and done their utmost; but they are over, and the end is come. All is past and gone, all has failed, all has sated; we are tired of the past; we would not have the seasons longer; and the austere weather which succeeds, though ungrateful to the body, is in tone with our feelings, and acceptable. Such is the frame of mind which befits the end of the year; and such the frame of mind which comes alike on good and bad at the end of life."
"One year goes and then another, but the same warnings recur. The frost and the rain come again; the earth is stripped of its brightness; there is nothing to rejoice in. And then, amid this unprofitableness of earth and sky, the well-known words return; the Prophet Isaiah is read; the same Epistle and Gospel, bidding us 'awake out of sleep,' and welcome Him 'that cometh in the Name of the Lord'; the same Collects, beseeching Him to prepare us for judgment. Oh blessed they who obey these warning voices, and look out for Him whom they have not seen, because they 'love His appearing'!"
"This indeed is the most momentous reason for religious worship, as far as we have grounds for considering it a true one. Men sometimes ask, Why need they profess religion? Why need they go to church? Why need they observe certain rites and ceremonies? Why need they watch, pray, fast, and meditate? Why is it not enough to be just, honest, sober, benevolent, and otherwise virtuous? Is not this the true and real worship of God? … [Can't] they not choose their own [way]? Why must the come to church? Why must they be partakers of what the Church calls Sacraments? I answer, they must do so, first of all and especially, because God tells them so to do. But besides this, I observe that we see this plain reason why, that they are one day to change their state of being. They are not to be here forever. Direct intercourse with God on their part now, prayer and the like, may be necessary to their meeting Him suitably hereafter: and direct intercourse on His part with them, or what we call sacramental communion, may be necessary in some incomprehensible way, even for preparing their very nature to bear the sight of Him."
…
The Remembrance of Past Mercies by John Henry Newman (Christmas)
"Let us commemorate the many mercies the Lord has vouchsafed to us in time past the many sins He has not remembered, the many danger He has averted, the many prayers He has answered, the many mistakes He has corrected, the many warnings, the many lessons, the much light, the abounding comfort which He has from time to time given. Let us dwell upon times and seasons, times of trouble, times of joy, times of trial, times of refreshment."
…
Homily for the First Sunday of Advent by Alfred Delp, S.J. (Advent)
"Perhaps what we modern people need most is to be genuinely shaken, so that where life is grounded, we would feel its stability; and where life is unstable and uncertain, immoral and unprincipled, we would know that, also, and endure it. Perhaps that is the ultimate answer to the question of why God has sent us into this time, why He permits this whirlwind to go over the earth, and why He holds us in such a state of chaos and in hopelessness and in darkness––and why there is no end in sight. It is because we have stood here on the earth with a totally false and inauthentic sense of security. So now, God lets the earth resound, and now He shudders it, and then He shakes it, not to call forth a false anxiety––I will speak of that later. He does it to teach us one thing again: how to be moved in spirit. Much of what is happening today would not be happening if people were in that state of inner movement and restlessness of heart in which man comes into the presence of God the Lord and gains a clear view of things as they really are. The man would have let go of much that has thrown all our lives into disorder one way or another and has thrashed and smashed our lives. He would have seen the inner appeals, would have seen the boundaries, and could have coordinated the areas of responsibility. Instead, man stood on this earth in a false pathos and false security, under a deep delusion in which he really believed he could singlehandedly fetch stars from heaven, could enkindle eternal lights in the world and avert all danger from himself; that he could banish the night, and intercept and interrupt the internal quaking of the cosmos, and maneuver and manipulate the whole thing into the conditions standing before us now."
"Blessed is the era that can honestly claim that it is not a desert wilderness. Woe, however, to the era in which the voices calling in the wilderness have fallen silent, shouted down by the noise of the day, or prohibited, or drowned in the intoxication with progress, or restricted and quiet out of fear and cowardice. The devastation will soon take over so horrendously on all sides that the scriptural reference to a desert wilderness will spontaneously occur to us all. I think we know this."
…
Homily for Christmas by Alfred Delp, S.J. (Christmas, right before his execution)
"The world is more than its burden, and life is more than the sum of its gray days. The golden threads of the genuine reality are already shining through everywhere. Let us know this, and let us, ourselves, be comforting messengers. Hope grows through the one who is himself a person of the hope and the promise."
…
Homily for the Fourth Sunday of Advent by St. Oscar Romero (Advent)
"No one can celebrate a genuine Christmas
without being truly poor.
The self-sufficient,
the proud,
those who, because they have everything,
look down on others,
those who have no need even of God––
for them there will be no Christmas.
Only the poor,
the hungry,
those who need someone to come on their behalf,
will have that someone.
That someone is God,
Emmanuel,
God-with-us.
Without poverty of spirit
there can be no abundance of God."
…
Homily for the Fourth Sunday of Advent by St. Oscar Romero
"The salvation we preach in Christ's church is the same salvation that Mary believed in and that she initiated when she gave her consent and became fruitful with God's salvation. The church is zealous to guard Mary's belief, God's plan for human salvation, and it will not let his plan be lost in merely human plans. Rather, it must sanctify and permeate these. Every people's liberation effort will be effective and according to God's heart only if it lets faith in God's plan to save humanity pervade it."
…
Homily for Christmas by St. Oscar Romero
"We must not seek the child Jesus
in the pretty figures of our Christmas cribs.
We must seek him among the undernourished children
who have gone to bed tonight with nothing to eat,
among the poor newboys
who will sleep covered with newspapers in doorways."
…
Excerpts from John Henry Newman's sermons are taken from the collection Selected Sermons, Prayers, and Devotions (New York: Vintage, 1999).
Εxcerpts from Alfred Delp's sermons are taken from Advent of the Heart (San Francisco: Ignatius, 2006)
Excerpts from Oscar Romero's sermons are taken from Oscar Romero and the Communion of the Saints (Maryknoll, New York: Orbis, 2016)
To listen to the full Church Life Today episode, click the button below: