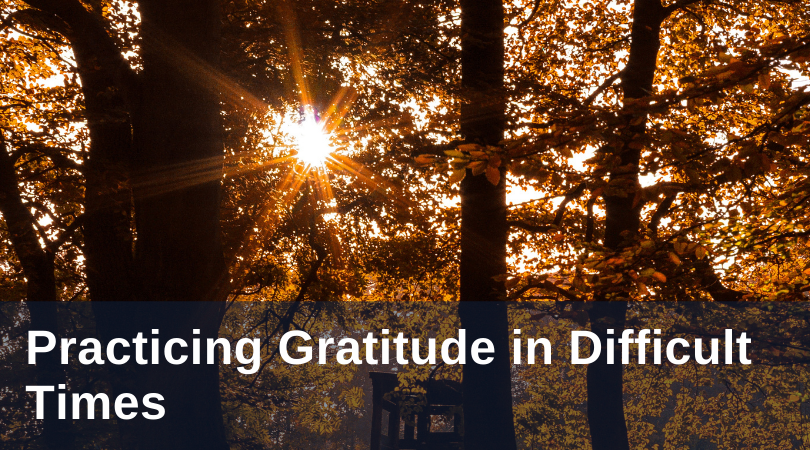 We are in the midst of a season that compels us to express our gratitude, and, as Catholics, we are always called to give gratitude to God, especially as we participate in the celebration of the Eucharist. In Scripture, St. Paul exhorts us to give thanks in all circumstances (1 Thessalonians 5:18), to give thanks always and for everything (Ephesians 5:20).
But we don't always feel grateful. Bad things happen; evil exists. This year, in particular, has been incredibly difficult for so many of us: we've lost loved ones; we've contracted or know others who have contracted Covid-19 and continue to suffer its effects; we're lonely, we're isolated, we're exhausted, we're afraid; we feel the wounds of division; we worry about the future.
How do we practice gratitude when it feels like nothing is going well?
Look for the good
Saint Augustine reminds us, "God is so powerful that he can even make good out of evil" (Enchiridion, 11). So we must then look for the good; we must work to identify the things in our lives for which to be grateful.
Even when we cannot yet feel grateful for a difficult situation, we might look around and identify other things in our lives for which to be thankful. Studies show that practicing gratitude has social, physical, and psychological benefits. Gratitude does not take away the pain of suffering, but it allows us to continue moving forward as our wounds heal.
Spend some quiet time reflecting on the good things in your life. If you are in the midst of a particularly difficult situation, see if you can identify any good that God may have already brought out in the midst of it.
And in all circumstances, thank God
Even when we do not see or understand where God might bring good out of a difficult situation, we can still give thanks to God because God is good.
It feels easier to be thankful when things are going well or when we can identify the good that God has brought into our lives, but St. Paul did not misspeak when he told the Thessalonians to give thanks in all circumstances. When we cannot yet see anything good for which to be grateful, we can pray to God, asking him to bring good and to help us see the good.
Turn to God in prayer. Thank God for his presence, praise him for his goodness. Ask God to continue to transform your difficulties and to give you faith in his ability to do so. Ask for hope; ask for God's eyes to see what is good. Ask God to increase your ability to be grateful.
May our prayer transform our hearts so that we may be filled with joy and peace this Thanksgiving.
And now, bless the God of all,
who has done wondrous things on earth;
Who fosters people's growth from their mother's womb,
and fashions them according to his will!
May he grant you joy of heart
and may peace abide among you;
May his goodness toward us endure in Israel
to deliver us in our days.
Like what you read? Submit your email below to have our newest blogs delivered directly to your inbox each week.
(Sirach 50:22–24, First Reading on Thanksgiving Day)