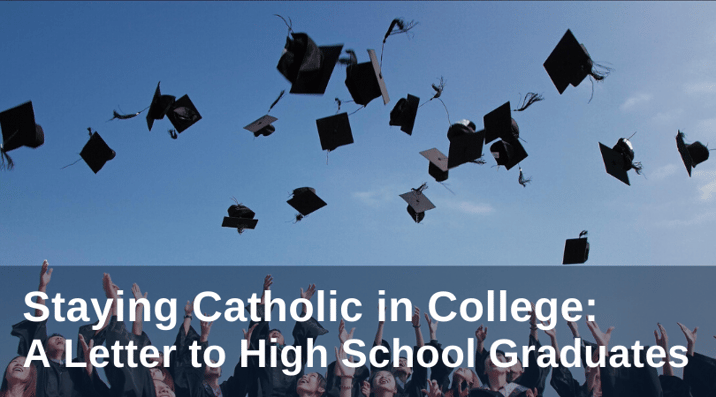 Dear graduating seniors,
Finally, high school is over and you are FREE!!! Congratulations! Eat some cake. Now, get excited because college is just around the corner!
If you're anything like I was, you can't wait to get to college. People told me my college days would be some of the best of my life. It was true! What I didn't expect, though, was how my faith would change while I was there. For the first time in my life, my parents weren't blasting me out of bed for church on Sunday, my youth minister wasn't there to make sense of things, and my best friends weren't sitting in the pews behind me. It was all up to me.
No matter where you're headed in the fall, living your Catholic faith in college is a choice you'll have to make. It won't just fall in your lap. If you are serious about making God a part of your life next year, you have to pursue him. You have to make your faith your own. How do we do this? Here a few practical tips:
Put your relationship with God first.
The first step to building a relationship with God is to show up. With all the opportunities of college life, though, this isn't always easy. When you sit down to plan your schedule for the semester, carve out time for Sunday Mass and daily prayer first. Find people you can go to Mass with—they'll help you get there every week. When you make showing up to prayer a priority, you give God the opportunity to work in your life.
Seek out Catholic community and true friendships.
If you are serious about pursuing God in college, it is so important to find other people who are going to run after him with you. Of course, this doesn't mean "only have Catholic friends"; it means that you need Catholic people around you who can walk with you, challenge you, and inspire you in your life of faith. You were not made to do this alone.
Sometimes, finding this kind of community isn't easy. Don't be discouraged if finding friends is slow at first or if it is heard to "break in" to a group. This is hard for everybody. First, find your school's Catholic campus ministry organization (sometimes called a Newman Center), and go to their events as soon as you get to campus. Then, start to meet people! Don't be afraid to introduce yourself or join a group conversation. They've all been where you are and most of them want friendship just as much as you.
Know and live your faith.
It's a big world out there and sooner or later, you are going to run into ideas that are contrary to Catholic teaching. Take the time to get to know what you believe and why. If something comes up in class or in conversation, go home and learn about the Church's answer—the Catechism is a great place to start. It's okay to question your faith, but your questioning should lead you to look for answers. Too many people let laziness or unsatisfactory answers dictate their belief (or lack of it). Remember: every "no" in the Church's teaching is actually about a greater "yes" to something else. Seek out what we are saying yes to as Catholics and put it into practice in your life.
Pursue a life of true freedom.
So many people think that college = freedom, and "freedom" = doing whatever you want whenever you want. But if you can't (or won't) say no to a drink, another game of Halo, skipping class, or hitting the snooze button for the tenth time, you could actually become enslaved to those things. True freedom is about having the ability to do the right thing in a situation, even if it doesn't feel good in the moment. Pursue true freedom. Strive to grow in virtue by making goodness and excellence a habit in your life.
My friends, college is a wonderful time and it goes fast. Enjoy every minute of it and remember that God wants to use it to speak to you. He loves you unconditionally and he is with you as you go.
God bless you!
Like what you read? Submit your email below to have our newest blogs delivered directly to your inbox each week.