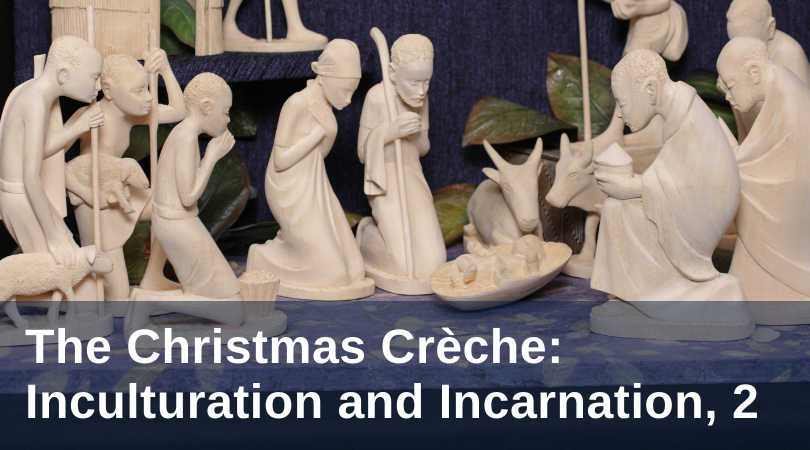 Editorial Note: This series features Nativity sets from Africa on display in the McGrath Institute for Church Life's Sixth Annual International Crèche Exhibit.
Though the Christmas story centers around the joy of the birth of Jesus, who will bring "peace on earth," and the promise of "God and sinners reconciled," it nevertheless leaves important space for the darkness and difficulty of human life. From Mary's fearful awe at the momentous Annunciation to the flight of the Holy Family into Egypt and the slaughter of the Holy Innocents, the Nativity story itself incorporates the brokenness of the world that Christ came to save. The crèche, then, as an artistic depiction of the Nativity, can emphasize the joy of Christmas, but it also invites moments of recognizing the pains, burdens, or fears which accompany human life.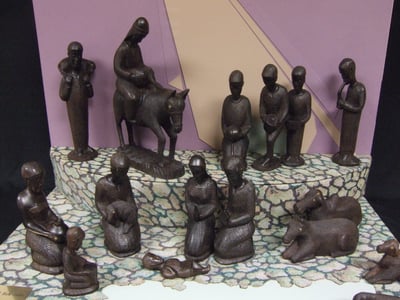 Here, in "The Greatest Story," crafted by an anonymous Makonde artisan in Tanzania, each figure approaches the Child with arms full of what at first appear to be gifts. Yet their bowed heads and thoughtful expressions suggest, at a closer look, that what they bring might be not only gifts, but might also represent the burdens and difficulties of earthly life. The Child, who lies on the ground without even a manger to support him, holds the promise of redemption, but also a recognition of the brokenness of the world. As we approach Christ this Christmas, let us take not only our joyful gifts, but our questions and our brokenness, entrusting all to him. For he promises us: "Come to me, all you who labor and are burdened, and I will give you rest" (Matthew 11:28).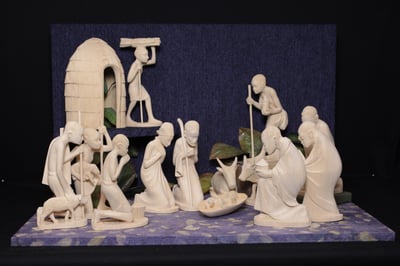 Just as the crèche becomes a place for humanity to bring the pains and darkness of our lives, it also becomes a moment of refreshment, where Christ invites us to pause from our busy days to stand in wonder and adoration. In "A Shepherd's Feast," carved by Rwandan artist J.B. Sengayire, a scene of profound silence depicts the shepherd's discovery of the Holy Family. Unlike Mary and Joseph, who close their eyes in a moment of peaceful worship, the shepherds eagerly look around the miraculous scene. Their energy in holding their staves suggests that, though they are momentarily still, they are ready to rise and return to their lives, sharing this joyful news.
In approaching the manger, with whatever gifts we bring or burdens we bear, let us remember that we are also called to rise from that adoration refreshed and willing to do God's work in the world.
Images courtesy of the Marian Library, University of Dayton.