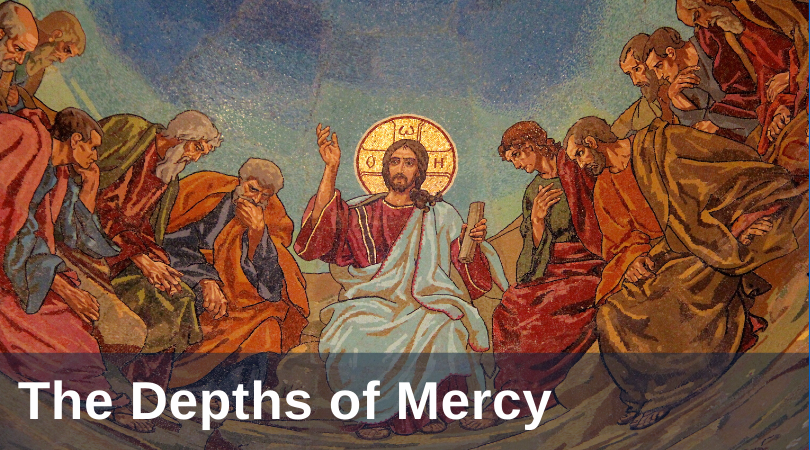 Editorial note: This blog is the fourth in a six-part series featuring our free Lenten resource, "A Scriptural Pilgrimage to Christ Through Lent," written by Lenny DeLorenzo.
Lazarus died. The people scoffed. The disciples blanched. The inner community lost interest.
Death. Disbelief. Ingratitude. Abandonment. These are the depths where mercy goes.
The closer Jesus comes to the end of his earthly pilgrimage, the greater the inhospitableness with which he is received. It was not Lazarus' fault that he died––at least not any more his fault than the fault of all sinners––and yet his death is the occasion for skepticism about Jesus' compassion and power. And maybe the people can't really be blamed for being shocked in the face of Jesus' pledge of his flesh and blood for their food and drink, yet their shock betrays a deeper distance they keep from him––they're judging him and measuring his words. Of course, the disciples did not ask for Jesus to wash their feet, and yet their regular jostling for power beside him becomes hardened into the betrayal he foretells and that Judas eventually completes. No doubt Peter, James, and John must have been tired, and yet in their sluggishness they abandon Jesus in his greatest distress.
"Where have you laid him?" Jesus asks, and instead of recoiling in the face of their skepticism, he goes to the source of their sorrow. "Does this shock you?" Jesus asks, and instead of taking back the pledge of his Body and Blood, he stands vulnerably before his followers as many peel away. "Do you know what I have done to you?" Jesus asks, and instead of blasting their ingratitude he plays the long game, offering his sacrifice as the seed of their conversion. "Could you not watch with me one hour?" Jesus asks, and instead of walking away from them, he comes back to them to hold them in his prayer while they sleep.
Each of Jesus' questions is a prelude to an act of mercy. He responds to the inhospitableness of this world not with an explanation, but with action. His action is the mission of the Father, from whom he came into the world, "not to condemn the world, but that the world might be saved through him" (John 3:17). This world loves darkness rather than light, nevertheless he persists.
It is not aside from but rather right into and through our refusal to receive him that the Lord seeks our salvation. This unbearable mercy of his, which shows us just how cruel and unbelieving we are just as he liberates from all these sins. How could we ever be ready for mercy like this? Maybe we should fast and pray.
It is sometimes comforting to think that God is always there, always with us, always ready to help us. It is another thing entirely to hear Jesus, to see Jesus, to touch Jesus who is the love of God come into the world. He is not the "idea of God" or a reminder about God; he is God's saving action. And he comes to us while we are "still a long way off," "while we were still sinners" (Luke 15:20; Romans 5:8).
"But," we each might think, "I haven't heard him! I haven't seen him! I haven't touched him!" To which he responds in the voice of his priests before the altar: "This is my Body . . . This is my Blood."
We fast and we pray because the Lord has plumbed the depths of our sin and bestowed mercy into our unworthiness. He raises us from that death, offers himself, washes us, and gathers us in our sluggishness when we taste and see his goodness in the Eucharist.
To download "A Scriptural Pilgrimage to Christ Through Lent" and receive an invitation to join our Facebook discussion group, click the button below.