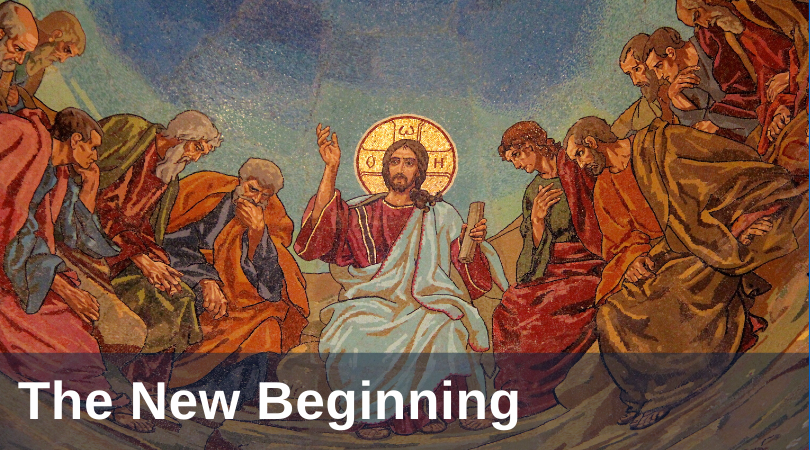 Editorial note: This blog is the final installment in a six-part series featuring our free Lenten resource, "A Scriptural Pilgrimage to Christ Through Lent," written by Lenny DeLorenzo.
This is the end of the end and the beginning of everything else.
We have hoped for and expected too little. Mary Magdalene expected to find a corpse; she never hoped to find life himself calling her name. The two bound for Emmaus were expecting to settle into their sadness back at home; they never hoped that joy himself would walk with them to turn their hearts and minds. The eleven huddled in the upper room were expecting to stay protected out of the public eye; they never hoped that courage himself would dine with them and so nourish them with his vitality.
What comes to an end are the stories we prefer to write; what begins is the reign of God. This is the fruit of God's work: "He has delivered us from the dominion of darkness and transferred us to the kingdom of his beloved Son" (Colossians 1:13).
Now how do we allow ourselves to be transferred into Christ? How do we live no longer in ourselves or for ourselves but in him (Galatians 2:20; 2 Corinthians 5:15)? We begin by trying to hear him calling our names in the midst of our current sorrow. We begin by refusing to settle into sadness and open ourselves to the unexpected joy that draws near to us. We begin by unlocking the doors of our fear so the zeal for his Father's house may consume us (John 2:17; cf. Psalm 69:9).
None of this is easy. Sickness and death threaten us. Anxiety and alarm ring in our ears. What we had hoped for shall not come to pass: wealth flees us, security vanishes, possibilities dissipate. We would have preferred to enjoy our own versions of peace and prosperity and then rejoiced in the Resurrection of Christ. We have hoped for and expected too little.
Christ's Resurrection is our peace and prosperity. It is not an add-on, nor is it reliant upon anything else. His glory stands on its own, and we are made to stand in him. Whatever else we have been tempted to trust in more or to trust in before we entrust ourselves to him has come to an end. This disordering of our affections and the fragmentation of our fidelity remains in the grave. Only he rises. We have been created to rise in him.
When we look back from the glory of his kingdom, we shall see that when we thought we had walked by our own strength, we were really limping along with waning life. And we shall see that when we stumbled in trying to walk in Christ, we were really hastening towards the joy prepared for us since the foundation of the world. A shaky step to entrust ourselves to Christ's life is worth more than a thousand strides along the stories we once preferred to tell.
Easter is hard work. This is the final week of preparation. Now is the time to allow Christ to take from us all that we have clung to and bury it with him in the grave. Now is the time to beg him to bring us up with him into new life. Now is the time to lift our arms like an infant and prepare to take our first steps in him without holding on to anything else.
Our victory is already assured. Christ already went down among the dead and rose again in glory, so we have a new beginning for our hope, a new confidence with which to pray. All our limited expectations have already been eclipsed by the light of life. Our duty is to allow that victory to wash over us. Through Christ, in Christ, with Christ, we may now pray to his Father and our Father, his God and our God: "In your goodness raise up your faithful people, buried with him in baptism, to be one with him in the eternal life of heaven."
This is the end of walking by our own designs and the beginning of walking in him.
To download "A Scriptural Pilgrimage to Christ Through Lent" and receive an invitation to join our Facebook discussion group, click the button below.