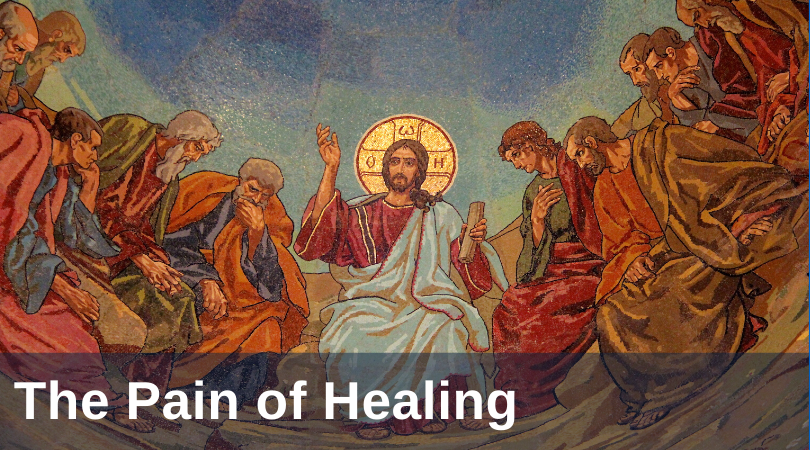 Editorial note: This blog is the second in a six-part series featuring our free Lenten resource, "A Scriptural Pilgrimage to Christ Through Lent," written by Lenny DeLorenzo.
"May we bear the wounds of your Son, for through his body he gave us life."
That's a hard prayer to pray, but that's what the Church instructs us to pray on Wednesday morning in the second week of Lent. Who could possibly beg to receive wounds? We are much more comfortable praying to be relieved of our wounds. And yet, the wounds of Christ are the source of healing for our own wounds. To accept his wounds is to be healed of ours.
Nothing is more challenging than yielding control. If we are to pay a cost for discipleship, we would much rather choose the cost we are going to pay. "I prefer to suffer this, not that." But the wounds of Christ do not conform to our preferences. They are the wounds of his will to love, and he gives his disciples the gift of sharing in that will.
This tells us something about what being healed by Christ—in Christ—really means. When he has mercy on us, he does not just do something to us; he desires that his works are done with us, even through us. It matters that we learn to see aright, even in stages, because in the gift of his healing is the mission to discern patiently. It matters that we want to be healed because included in the gift of his healing is the mission to become healers. It matters that we seek to do good and not evil because included in the gift of his healing is the mission to become sources of goodness ourselves. And so Christ asks those he heals: "Do you see anything?" "Do you want to be healed?" "Is it lawful to do good on the Sabbath?"
Christ asks us to yield control. The gift of his mercy becomes, in us, the task of mercy. The healing he works is complete in us when we become merciful. Mercy is his way. We are meant to move according to his initiative. He begs us to yield control.
Our lust for control comes in many different guises. Sometimes it appears as the ability to command a room, set agendas, or shape conversations. Sometimes it looms under bitterness towards others who did not conform to our expectations. Sometimes it masquerades under the insistence on playing the victim. The lust for control does not always look like we expect it to look, even to the point of looking like its opposite, which is something like helplessness.
The wounds of Christ upend the lust for control, whether that lust is visible or invisible. He chose to yield control, even to the point of putting himself into our hands so that we might do with him as we like. He chose to yield. This active passivity is the full manifestation of love, which he alone inaugurates. He gives himself to us so that we might learn how to give ourselves in truth. He bore the cost for our inhospitality. To see his wounds is to glimpse the seriousness of his love. To bear those wounds ourselves is not only to be healed, but to become healers.
Christ's healing is not without pain. He bears the pain first, but we bear the pain of being changed by him. It hurts to let go of the way we want things to be. But the mercy of Christ is always an education in love, and the first lesson that must be learned over and over again is how to yield control to his initiative.
To download "A Scriptural Pilgrimage to Christ Through Lent" and receive an invitation to join our Facebook discussion group, click the button below.