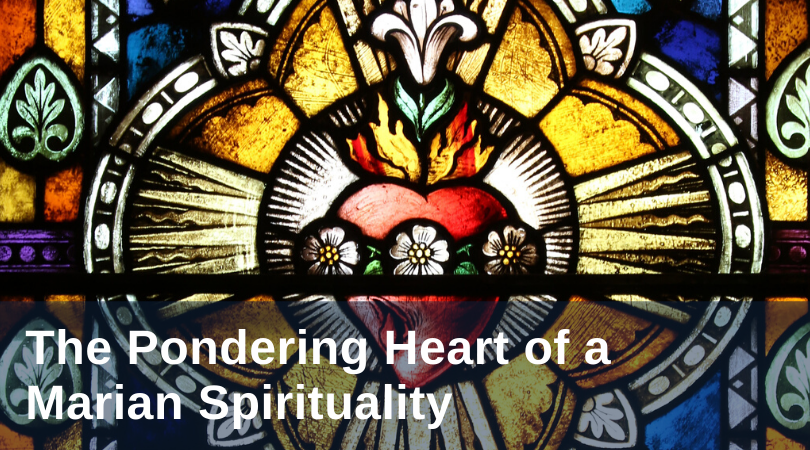 Over the past few years, I've become increasingly reliant on my online calendar; classes, meetings, coffee dates, phone calls, times for work or rest all have a neatly colored slot on the screen. Yet as I scroll through the next few weeks, the reality of graduating amid such global uncertainty reveals itself in a series of empty, unclaimed days ahead.
As a result, I've been thinking a lot about emptiness, and how this time between the end of school and the start of "the rest of my life" seems to be an empty space. But as the days begin to feel empty, I've encountered again and again the echo of a simple phrase: "and Mary kept all these things in her heart" (Luke 2:19 and 2:51b).
We hear this phrase twice in Luke's Gospel: once after the Nativity, when the shepherds bring the news of angelic joy, and again when Mary and Joseph find the child Jesus in the Temple after three days of anxious searching. The things Mary pondered in her heart are not simply the moments of great joy: she ponders the pain that Simeon prophecies, and the first moment when her Son demonstrates that he must ultimately leave his family to fulfill his Father's will. And in those hidden years of the life of Christ, absorbed in the daily tasks of caring for a family, Mary might have pondered what those extraordinary moments meant for her daily, seemingly unremarkable life.
But the pondering of Mary was not an anxious fretting, a frenzied unravelling of the events in her mind to solve or discover an ultimate meaning. She had given her fiat to God, and continued to trust amid the ordinary, and what ultimately became the extraordinary, moments of sacrifice in her life. This practice of meditating on the work of God in her life, even the moments and the words that she did not yet understand, allowed her heart to remain faithful, even in the greatest sufferings.
For us today, this can feel like a hidden time in our life. Physically distant from people we love, living in uncertainty and yet overwhelmed by daily tasks, many of us are simply waiting for when life resumes "as normal," and find ourselves simply wanting to distract ourselves from the discomfort of these weeks and months. But God does not simply work "as normal," and we are called to seek him not only in the moments of great joy or deep despair, but in these hidden, ordinary moments of life as well, just as Mary did.
So how might we emulate Mary? The first step is to seek times of contemplation and prayer, perhaps by physically taking a walk away from distracting screens or tasks, or setting aside time and a space to reflect on the ways God has been present in your life, or praying with the Scriptures. The second, and perhaps more difficult way, is to model her quiet fiat to God, and to allow this practice of reflecting on God's work in our lives to call us to deeper trust in him even when we, like Mary, confront moments that we do not understand.
Even here, in the midst of emptiness, we are invited to emulate Mary. The space created on my calendar by the loss of things I truly grieve should not simply create an emptiness in my heart. The pain itself can be an occasion to ponder the gift of people, groups, and places that I've loved so deeply. And like Mary, whose faithful pondering of the promises of God and his working in her life allowed her to remain faithful even in the greatest of sorrows, cultivating that practice of attention in our own lives will strengthen us to encounter whatever lies on the other side of this seemingly empty, suspended time.
Like what you read? Submit your email below to have our newest blogs delivered directly to your inbox each week.
Featured image: Immaculate Heart of Mary by Fr. Lawrence Lew, OP; CC-BY-NC-ND-2.0.